After finishing a few projects in the past few weeks, I had finally reached the point of moving more yards of fabric out than in.  This week, the trend reversed and I'm back up to a net increase.  I have such a hard time resisting fabric and it is such a little reward for hard work.  My daughter is moving so I went to La Crosse this week to help pack.  We "had" to stop by Olive Juice Quilts since it was so close to where we had dinner.  It is one of my favorite shops and I think I showed considerable restraint by only purchasing a few fat quarters.
I also made a larger online purchase but that is for a specific quilt I'll be gifting later this summer so it will be used and out of here in a relatively short period of time.
I have one finish to report.  If this quilt looks familiar, it's because I made an almost identical one about a year ago and gave it away right after finishing it.  I really liked it and wanted to make another for myself, but I think this one would be the perfect gift for a family member so I guess it's not meant to be for me!
The pattern is Stamp by Laundry Basket Quilts and the fabric is Horizon by Kate Spain.  I used a jelly roll for this quilt, but the pattern is a great stashbuster.  The little rectangles are cut 1-1/2" x 2-1/2" so even very small pieces will work.  It's fun to make when you are looking for an easy project.
 

This is also an easy one to quilt.  I did simple up and down straight lines in the blocks, a freehand crosshatch in the sashing and outlined the diamond shape in the borders.  No marking for any of it!!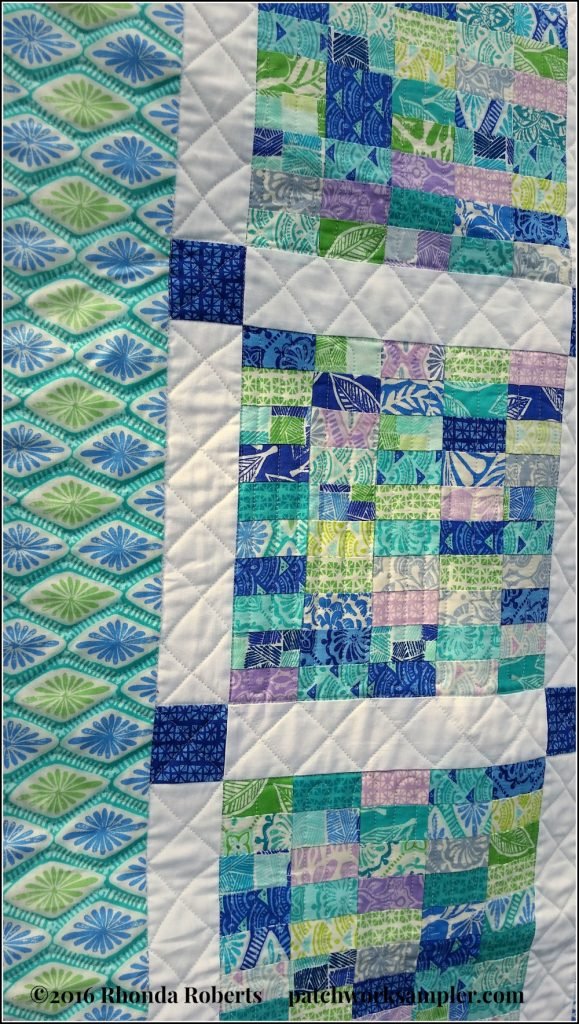 Here are my stash numbers for the week:
In: 20 yards
Out: 10 yards
Purchased YTD: 44 yards
Used YTD: 39.5
Net Gain: 4.5 yards
A couple of quilts are ready for binding so I'm hoping to finish those and get my stash numbers moving in the right direction!
Be sure to check out the links at Patchwork Times to see how other stash busting efforts are going.