While searching for UFO parts, I came across another one—Christmas Stars.  This was a very pretty block of the month, block of the week or some other series quilt we kitted at the shop.  The finished quilts I've seen from these blocks were very pretty.  Mine was abandoned more as a kit than a UFO because the only thing done on it was a little cutting.  All 12 block kits were in the bag so it looked like a project that could easily move forward.
We weren't home very much of the weekend, but I managed to get four of the blocks mostly pieced.  I say mostly because the blocks can be set together with all four quadrants the same, like this: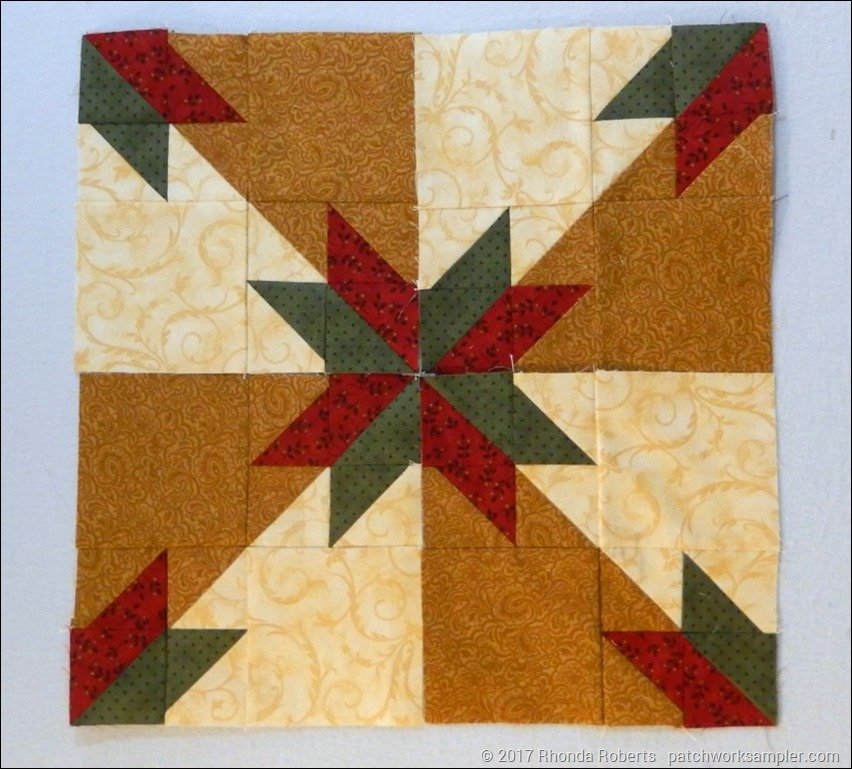 or in a scrappier manner with each of the four quadrants different, like this.
The scrappy version will take a bit more effort to lay out to make sure like fabrics don't touch and colors and prints are balanced throughout, but I will probably like it better.  Luckily, the decision can wait until all twelve blocks are pieced and I can just mindlessly sew them together right now.  Unfortunately, I got a little too mindless about it and sewed some blocks wrong and had to do some reverse sewing.  I'm back on track now and am happy to finally have a UFO that is showing some progress.
Linking up today with:
Design Wall Monday at Patchwork Times
Monday Making at Love Laugh Quilt
Moving It Forward at Em's Scrapbag
Main Crust Monday at Cooking Up Quilts