For a couple of years I've seen many beautiful quilts made for the Rainbow Scrappy challenge at So Scrappy.  Then I saw the wrap up post for 2016 with the "show and tell" of quilts made last year (click here to see it).  There were so many gorgeous projects, I just had to jump in this year. 
Many years ago, long before Moda jelly rolls, Debbie Caffrey was teaching "worm" classes using 2-1/2" strips.  After taking a couple of these classes, I saw the endless possibilities of strips so I started 2-1/2" strips off all my leftover fabrics.  Debbie recommended using mailing boxes to store the strips (they are the perfect size) and I've collected dozens of boxes of strips. It's time to move out some of these boxes so I had to figure out a quilt to use these strips.  Each box holds about 120 strips so I'll be able to participate in the RSC for years to come.
Or so I thought. January's color is purple.  I need four strips for each block and plan to make three blocks each of eight colors and one additional block somewhere along the way. I pulled out my purple box and found only a handful of strips.  In fact, I pulled ALL of my purple stash and this is what I have.  Guess I haven't made many purple quilts.
I found two sets of four strips but couldn't come up with the third so I hit up my neighbor's stash for a little more variety. Then I found a couple more strips in a scrap bin so now there is enough for all three blocks.
Lots and lots of half square triangles.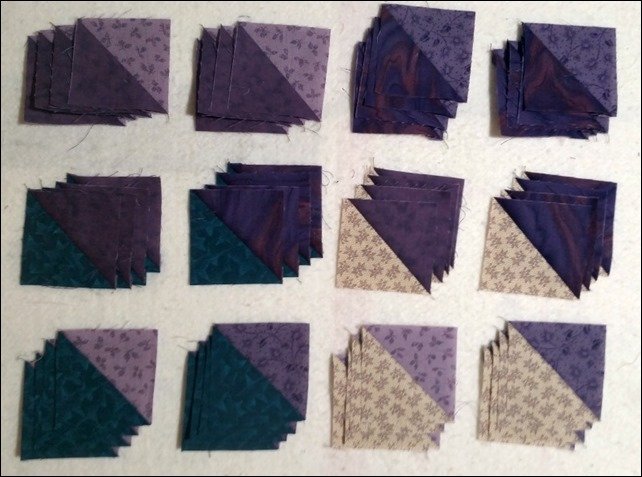 And here is the first block finished.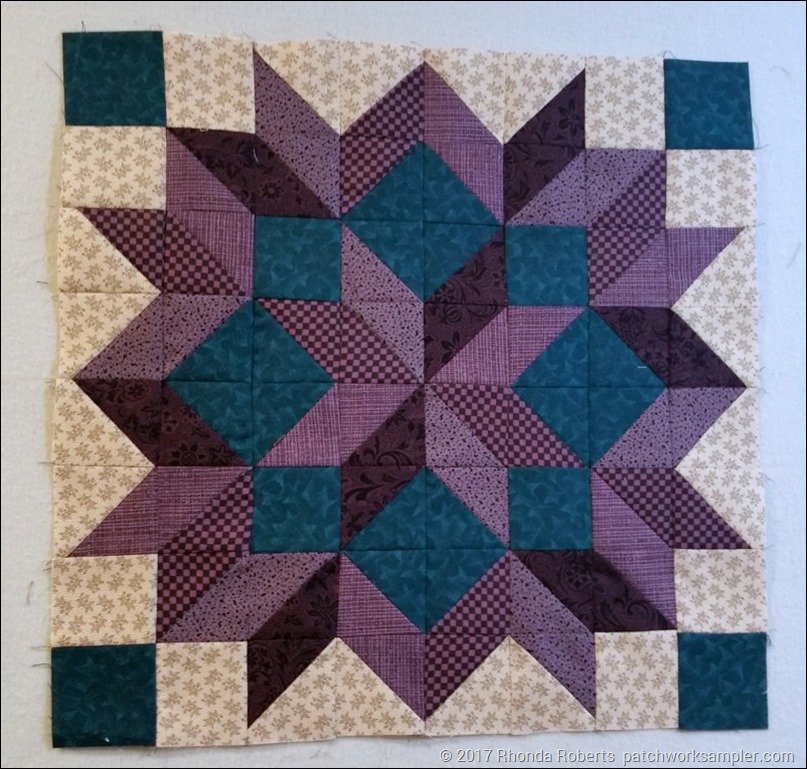 I really like the teal and it will be a constant in all the blocks.  I have a few different teals so will mix that up a bit.
Of course, everyone knows that scraps are like sourdough starter and when you use them they make more, so I have a plans for a different block using the leftovers!  I'm linking up with Ramona at So Scrappy for Scrap Happy Saturday. If you want to know more about the Rainbow Scrappy Challenge or want to join in, the details can be found here.