The quilt my daughter Jen made at our November retreat is finished and ready to deliver to her tomorrow.  There is no snow in the forecast and it is supposed to be unseasonably warm so Jim and I are driving over to see her.  We had the hardest time finding fabric for this quilt.  It is almost impossible to find florals in darker colors and she really had her heart set on navy (a girl after her mama's heart—I'm obsessed with navy and coral). I checked all the shops in the Fox Valley area, she checked La Crosse and we both looked online to no avail.  What happened to all those great Hoffman florals?  In the end we found this Cotton + Steel rayon. The pattern is Walk About by Grizzly Gulch.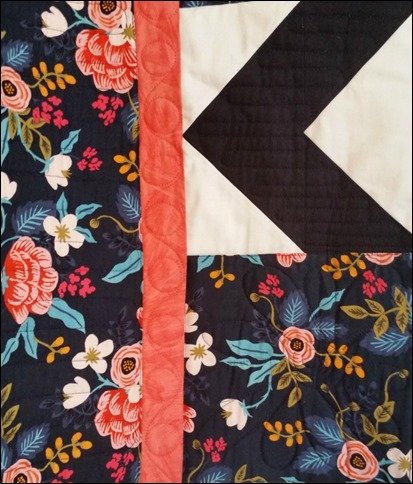 I sure wish RJR had printed this in quilting weight cotton, but they didn't.  I've never used rayon in a quilt before, but it worked okay.  It is a lighter weight fabric, but really not too stretchy.  She was just cutting big squares of it so that helped.  I hope it wears well, but it is for her guest bed so I don't think she will be washing it frequently.
The fabric is pretty busy so the quilting shows up better on the back than the front. The back is actually navy flannel.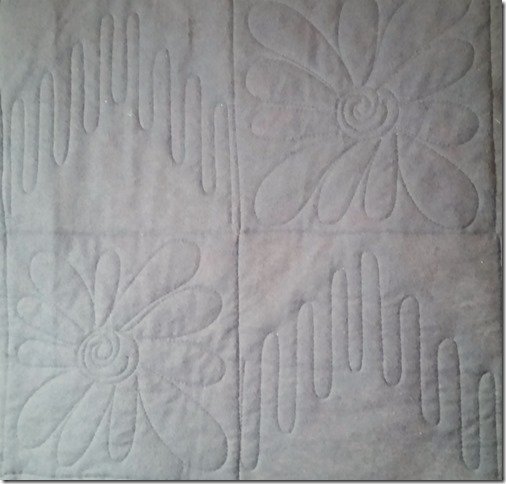 Jen hasn't done very much quilting but she did a nice job on this.  It will be very pretty on her bed!
Linking up today with Sarah at Confessions of a Fabric Addict for "Can I Get a Whoop Whoop Friday."  Take a look and see other projects that quilters are cheering about this week!