It seems like summer is for weddings so that means wedding quilts. Two of our nephews got married this summer and I made wedding quilts for both of them. It was fun to pick fabrics and designs for each couple and the quilts looked quite different. I love having a wide variety of fabric in my stash and did not have to buy anything for either quilt top.
The first quilt was for Justin and Itzel. Their home is decorated in soft blues and grays so I used those colors in their quilt. The pattern is Nova from Kim Brackett's book, Scrap-basket Sensations. I have made several quilts from this book and have loved all of them. The instructions are great and all the quilts are made from 2-1/2" strips so it is easy to use stash. I added blocks to the original pattern to make it queen size.
The quilting is a freehand, overall swirl which is my go-to quilting design. It adds great movement and texture and is fast to quilt.
Since it was such a large quilt I didn't have enough yardage of any one fabric for the back, but was able to find a nice gray from Connecting Threads.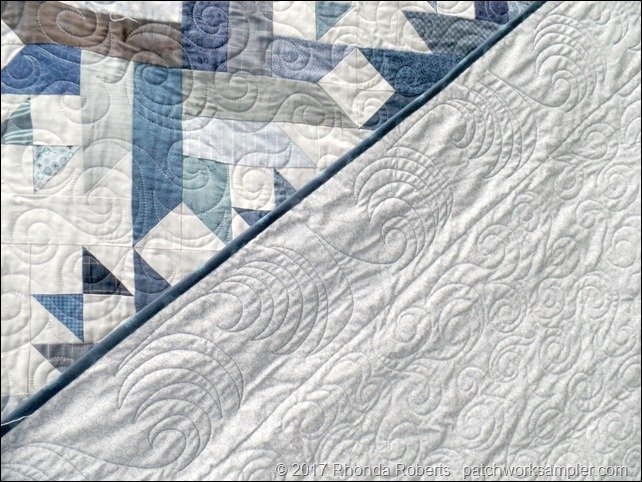 The second wedding quilt was for Jeff and Chanda. They live in Maui so I knew that batiks would be perfect for their quilt. I used Bonnie Hunter's free pattern, Pineapple Blossom for this project. I have made this quilt before and loved how it turned out.
Since moving to Hawaii, both Jeff and Chanda have become very involved in paddling and travel all over the islands for outrigger competitions. To represent this and the beautiful ocean that surrounds their tropical home, I quilted an overall water pattern.
Again, this is queen size so I had to find a backing for it. I don't really like piecing backs (even though it isn't hard!) so I try to find 108" wide fabrics whenever possible. Fortunately, Thousands of Bolts sells wide batiks so I was able to get a nice coordinating fabric for this quilt too.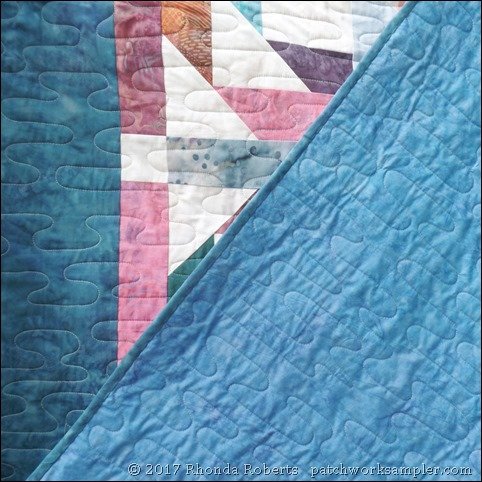 Both weddings were lovely and both were in unique locations. The first was at Journeyman's Distillery in Three Oaks, Michigan and the second was overlooking the ocean in Kihei. It was fun to see so many family members on such happy occasions. We were able to catch up with several nephews and one niece and their families. It's hard to get everyone together when they live coast to coast and beyond! It was a fun, fun summer even if it didn't involve much sewing.