Have you enjoyed the Blog Hop?  The initial intent was to persuade Riley Blake Designs to keep gingham in their basics line and apparently the campaign worked because RBD said they will continue to manufacture the medium gingham.  Unfortunately the small and large checks will be discontinued but we have to celebrate the small victories!  Many, many thanks to Mdm. Samm at Sew We Quilt for organizing this hop and for Shari at Living With Purpose for scheduling it and keeping everyone on track.
Today's Bloggers:
Life, quilts and a cat too
Meadowbrook
Apple Avenue Quilts
Just Keep Swimming
Patchwork Sampler-you are here!
Sew We Quilt
This is the last day of the hop and I'm really excited to share my projects.  For those of you who have never visited my blog, welcome.
Earlier in the year I became a little envious of all the beautiful quilting I saw at quilt shows and started thinking about upgrading my machine.  I quilt on a very basic mid-arm system; a Voyager machine on a Hinterberg frame.  There is no computer or stitch regulator so of course all of my limitations are the machine's fault. Haha!!  Each show was a magnificent display of exquisite designs and perfect stitches. I dreamed of making quilts like that.  I signed up to take a class at a local longarm dealer so I could try out the HandiQuilter Avante.  After the initial session, I brought in a quilt top of my own and rented time on the machine and quilted this:
The pattern is Cloud Nine by Villa Rosa made with a set fat quarters from Amy Butler's Midwest Modern line.  It was kind of nerve wracking to work on a different machine but when I finished I marveled at the beautiful EVEN stitches.
I love this wavy striped fabric on the back!!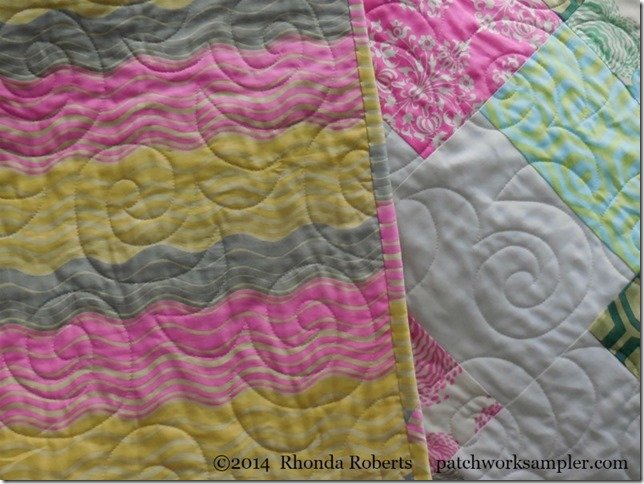 The second quilt started from a stack of fat quarters from Heather Bailey's new line of fabric called Up Parasol.  Recently I've seen several quilts where four smaller blocks are set together to make one large block and variable stars are a favorite of mine so I came up with this quilt.  I love the soft colors and the mint sashing stars.
Even though I took several classes at the Machine Quilting Today show in August I wasn't comfortable enough to try a new technique on this quilt so I fell back to my old favorite–allover swirls and curls.  This quilt has Pellon Legacy 80/20 batting and it really shows a lot of stitch definition.  I haven't used this batting very much but it worked well in this quilt.
My last project is the one using Riley Blake Gingham.  I had some fat quarters of the small gingham so I combined them with coordinating solids and made a Carpenter's Star quilt.
This quilt presented my biggest quilting dilemma.  There are SO many beautiful Carpenter's Star quilts on the internet.  I pored over Pinterest and Google images and could not believe some of the quilting.  I sketched out several possibilities as I contemplated various quilting designs.  Then I considered the number of hours it would take to stitch out some of those designs and reality struck.  It would take a LOT of time to custom quilt this.  Ultimately, time was just one of my deciding factors; others were end use and lack of quilting thread in all these colors!  This is a donation quilt so it was made to be used and loved.  Often with heavy, custom quilting, the quilt loses its soft, cozy feel.  All that thread creates a stiff quilt that is better for show than snuggling.  In the end, I simply meandered over the whole top.  It seems like such a cop-out but I'm happy with my decision.  The quilting adds some texture but doesn't detract from the piecing.  It will hold up to a lot of washing and abuse so in the end it's all good!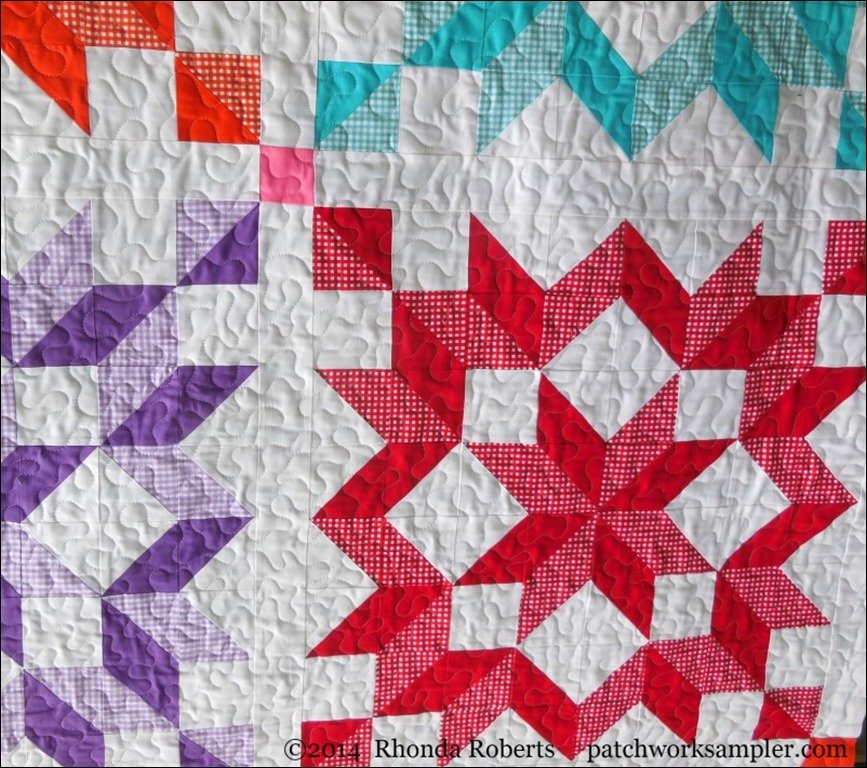 I still haven't decided whether or not I'll upgrade my machine.  For right now, it works well for the types of quilts I make.  Most of them are for donation so "perfect" quilting isn't as important as getting them finished and into the hands of people who can use them.  It sure is fun to dream about the possibilities though!
Now for the giveaway: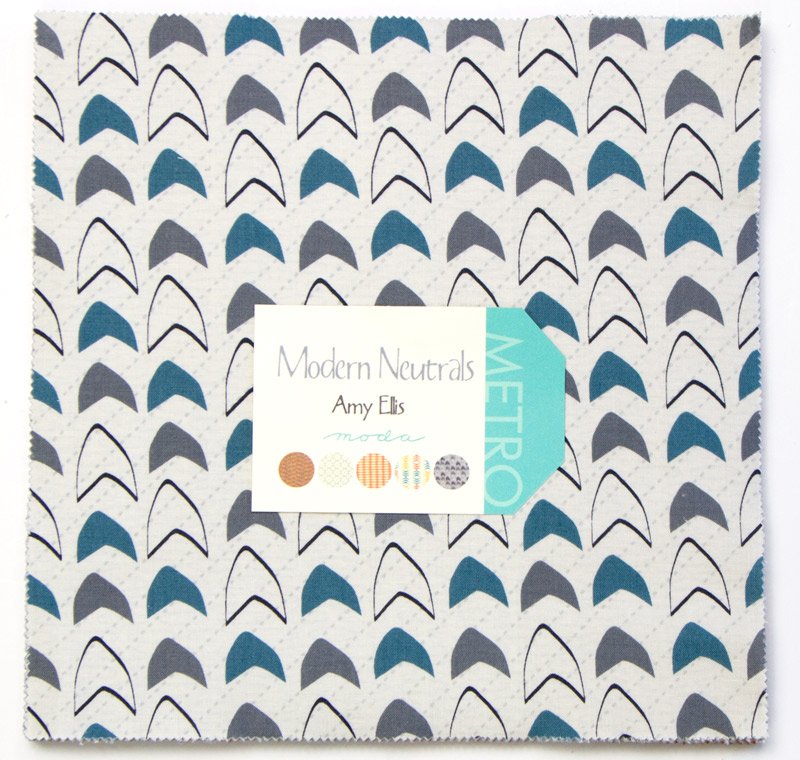 I have a layer cake from the Modern Neutrals line by Amy Ellis for Moda that someone will win.  It contains 42 (10″) squares of fabric (some prints are duplicated).  Simply leave a comment for a chance to win.  Make sure you are not a no-reply blogger!  I will ship anywhere in the world, but if someone outside the US wins I will remove the cardboard backing from the layer cake so it can be folded into a flat rate envelope.  Drawing will be held the evening of Friday September 19.
Hope you've enjoyed your stop here and the See You In September Blog Hop as a whole.  Thanks again to Mdm. Samm and Shari for their encouragement.  If you missed a stop, here is the complete list of participants so you can catch up!
Wednesday, September 3
Sew Incredibly Crazy
Bumbleberry Cottage
Thimblemouse and Spouse
Mad Quilter's Disease
In The Boon Docks
Thursday, September 4
Jane's Quilting
Life in the Scrapatch
Sew Many Yarns
Gracie Oliver Arts
Everyone Deserves a Quilt
Friday, September 5
Stitchin' By The Lake
Coeur d'Alene
Words & Stitches
TheSlowQuilter
Pig Tales and Quilts
All Thingz Sewn
Monday, September 8
Quilting Quietly
Creatin' in the Sticks
Procrastination Queen
Lovelli Quilts
Cherry Blossoms
Tuesday, September 9
Just Let Me Quilt
Marjorie's Busy Corner
The Quilting Queen Online Blog
Marla's Crafts
K and S Sweets and Stitching
Wednesday, September 10
Secretly Stitching
Buzzing and Bumbling
Quilt n Queen
Quilted Delights
Grandmama's Stories
Thursday, September 11
Susie's World
Needled Mom
Cate's Linens
How ART you?
I Like To QuiltBlog
Quiltscapes
Friday, September 12
Sunshine-quilting
Sew Peace to Peace
MoosestashQuilting
More Stars in Comanche
Living With Purpose
Monday, September 15
I Piece 2-Mary
Till We Quilt Again
Vroomans Quilts
Nini and the Sea
Seams To Be Sew
My Quilting Journey
Tuesday, September 16
Life, quilts and a cat too
Meadowbrook
Apple Avenue Quilts
Just Keep Swimming
Patchwork Sampler
Sew We Quilt