A quilter's dilemma—leftover batting
There is almost always a strip of batting like this that is cut off the bottom after a top is quilted. What do you do with leftover batting?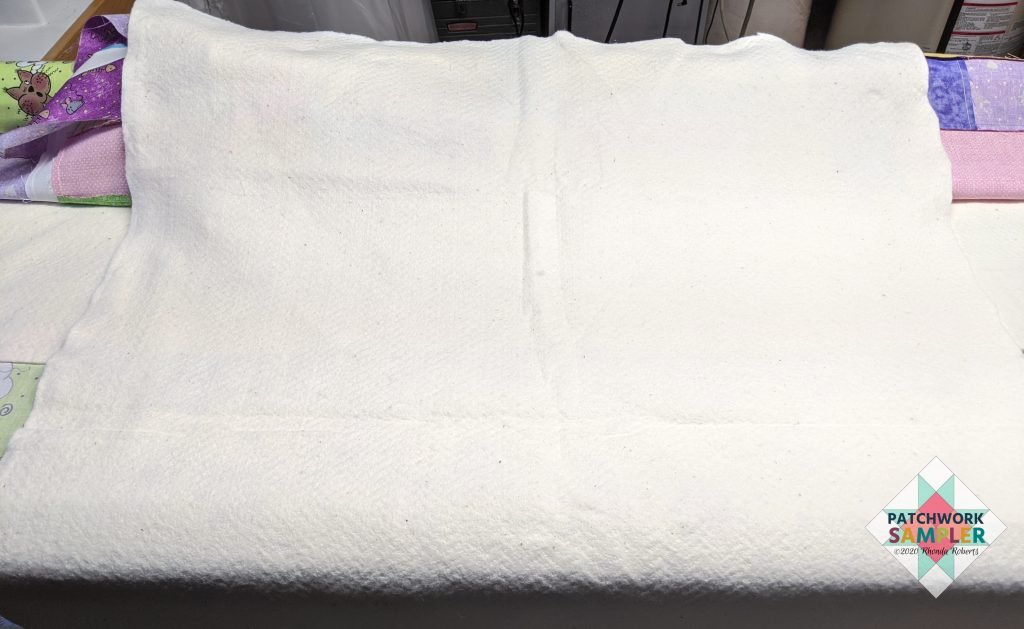 It is hard for me to throw away ANYTHING I might someday be able to use in a quilt. This includes batting. Unless it is a very narrow strip, under 12 inches or so, I toss the leftover piece into a large garbage bag. I'm always surprised at how quickly the bag fills up. It's probably not because I finish so many quilts, but rather that batting is bulky!
I buy batting by the roll so I most of what I use is the same. I don't make very many wall quilts or table runners. There is not much wall space in this house for display and I made many table runners over the years and have some for nearly every season and holiday. Some people use leftover batter for Swiffer cloths, but I'm lazy and it's easier to just grab a Swiffer cloth from the box. I have not found many other uses for this leftover batting so now I piece it for baby quilts.
I simply make a straight cuts top and bottom on each narrow piece and butt the cut edges up against each other. There are products to fuse these pieces together and some quilters stitch them together. I find that this is an unnecessary step. Once the top is quilted, that batting is not going to move. It stays in place and there is no additional bulk or different texture to the finished quilt.
The edges are pinned to keep the batting strips in place when rolling the quilt on the frame. It is so simple and a great way to use up all those narrow batting strips.
See how simple it is to use up those those narrow batting strips. It's almost like free batting to be able to use these in a quilt.
Finding small joys
It is no secret that I do not like winter. At all. I hate being cold and day after day of gray gets to me. We try to spend a good part of winter in a warmer climate. In early March we started a trip through the south, starting in Lexington, KY, through Asheville, NC, then on down to meet some friends in Savannah, GA. We made stop in Greenville, SC then cut our trip short to head back to Lexington then back to Wisconsin. We got home six weeks ago. While in the south we marveled at flowering trees and budding leaves. In Savannah, so many flowers were in bloom. The weather was sunny and in the 70s. Just beautiful. It is discouraging to go back to brown trees, brown grass and gray days. And snow, lots of snow still snow on the ground.
Spring certainly takes it time getting all the way north, but I think it is FINALLY here. We have loads of daffodils blooming in the front yard.
The daffodils add a nice splash of color in the just-barely-turning-green yard. They are amazingly hardy. So far this spring they have endured driving rain, hail, high wind and freezing temperatures. Yet they spring back and are beautiful.
Yesterday I even noticed buds are just starting to appear on our neighbor's tree. It is such a welcome sight and such a joy to see things in bloom. Spring is my favorite time of year. Seeing all the colors come back to life after a long winter lifts my spirits. I'm hoping that soon I'll be able to take a walk without my down jacket!!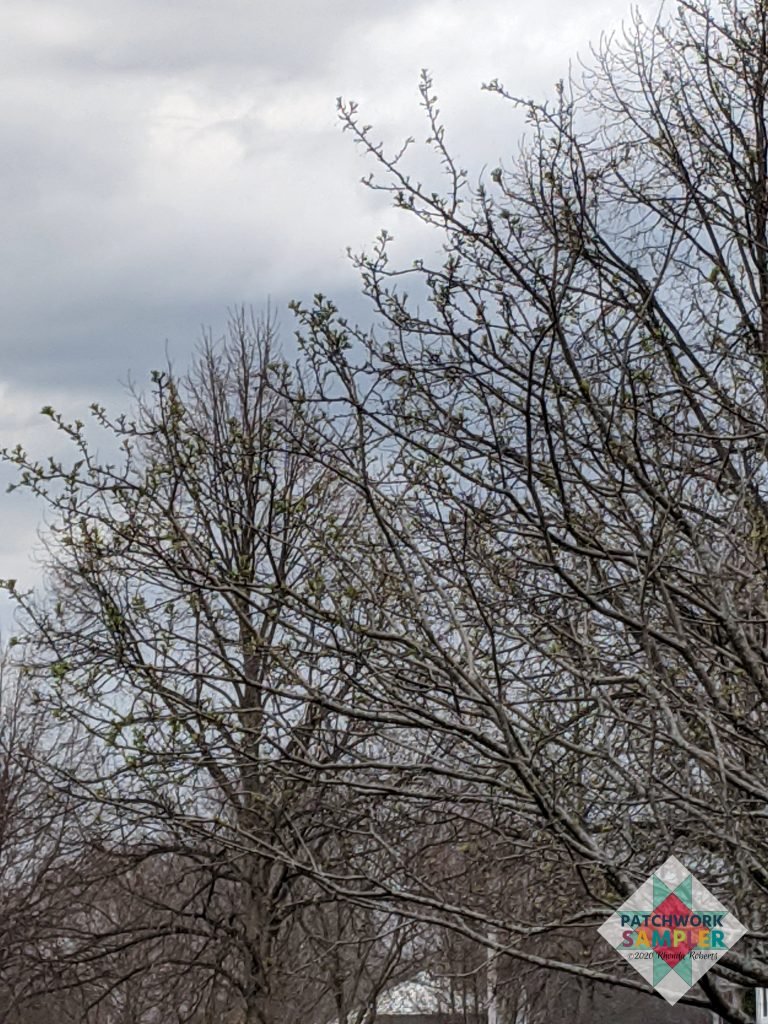 Hope you are finding some small joys during this crazy season of life.