Many times my projects hit a brick wall when it comes to quilting them.  It's hard for me to decide on a quilting design so they are set aside, sometimes for years, waiting for inspiration to strike.  Recently I was trying to finish my Star Surround quilt in time to post it in the parade at Happy Quilting and was struggling to figure out how to quilt it.  I did a Google image search but it came up empty.  So left to my own imagination, here's what I did.
I quilted the "surround" part with straight lines.  There are three lines going through each block.  I didn't mark these, but drew it out so I would know where to go.  At first it was a little tricky because of the angle on the squares, but once I figured it out, it was pretty easy.  All the background (or negative space) is quilted with a small meander.  That made the star and surround stand out more.
In the star, I just quilted a simple figure eight in each of the points.  Again, no marking, just a simple little motif.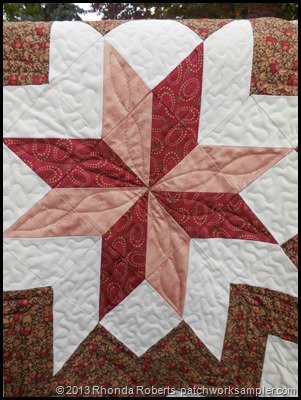 My quilting certainly isn't perfect, but it's finished and it looks just fine.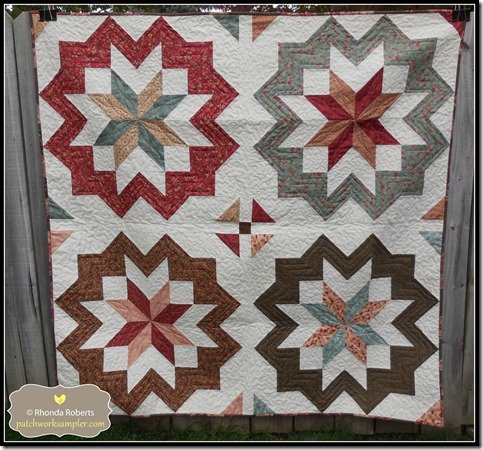 I know seeing the words "quilt as desired" on a pattern strikes fear in many quilters.  There are many books, blogs and websites that show quilting patterns and motifs.  I plan to make this a weekly post so you can see how quilting designs actually look on a quilt.  Maybe it will help with your quilting decisions and it will make me get something quilted every week!