On Monday I showed the Hunter's Star quilt that was on the frame.  This is my neighbor Monica's quilt but she didn't like it so asked me to quilt it and then we could donate it.  The whole time I was quilting I kept thinking that she would have a hard time giving it up when it was finished.  I'm not sure why she wasn't happy with it because I thought it was really pretty all along.  Every quilt looks better once it's quilted and this one was no exception.
Yesterday I took it off the frame and took a few pictures before delivering it to her.
Close up of the quilting: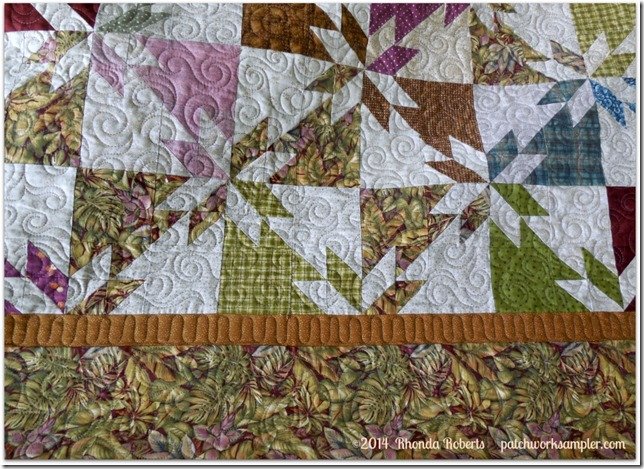 Usually I don't use solid fabric for the back because it shows every start, stop and mistake.  My quilting just isn't good enough to stand up to that kind of scrutiny!!  The texture really stands out though and from a distance it looks pretty good.
Monica wasn't home when I dropped it off but she called a couple of hours later and said that indeed, she did like the quilt now but still wanted to donate it and wanted to make sure I was okay with the recipient. For the past few months she has been working on a local Habitat for Humanity build.  They are almost finished with the home and will have the dedication in a couple of weeks, where she plans to present this quilt to the new homeowners.  That's a very happy ending in my book!