I am so far behind in editing pictures and am finally getting the last of the 2013 quilts posted.  This was the last quilt I finished in 2013.  When Bryan and Laura got married Bryan told me they didn't want a wedding quilt so I didn't make one.  I was always a little regretful that I didn't go ahead and make them a quilt.  In the end it all worked out well because this fall Windham came out with a great line of fabric called I Dream of Paris so I made them a quilt commemorating our trip to France.  There is a lot of black, brown and red in their apartment so I used those colors for the quilt.  When we were in Paris I picked up a few black fat quarters at Le Rouvray (which has since closed) so I used some of that in the quilt. 
It ended up being a large quilt and this picture only shows about a quarter of it.  The pattern is Wistful by Villa Rosa, but I made it quite a bit larger than the pattern.
The quilting is medium sized meandering in the dark strips and a small swirly/paisley freehand design in the light areas.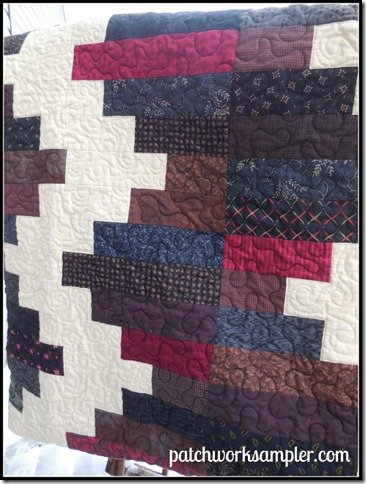 This was the perfect fabric for the back.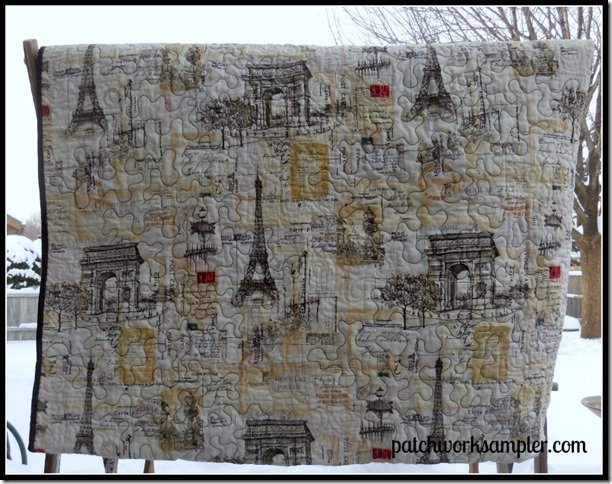 They really liked the quilt and it was fun to think about that great trip while I was making it!