Our small quilting group meets a week from today and of course, I've procrastinated on making the challenge quilt for the month.  We're working through Kim Brackett's book Scrap Basket Beauties and the quilt is called "Poinsettia."  The block looks like this:
The pattern calls for making it with connector corners for the angles.  For several reasons I don't like making connector corners; they are time-consuming, the corner must be trimmed and you either throw away the waste corner or sew another seam and start a new UFO with the new half-square triangles. 
Many years ago I started making these units with the Omni 96 ruler and I like it so much better.  All the pieces in this block can be cut from 2½" strips.  Make sure all your strips are right side up.  For the half-square triangles, line up the ruler with the strip between the dashed line on the top and the "2" line on the bottom.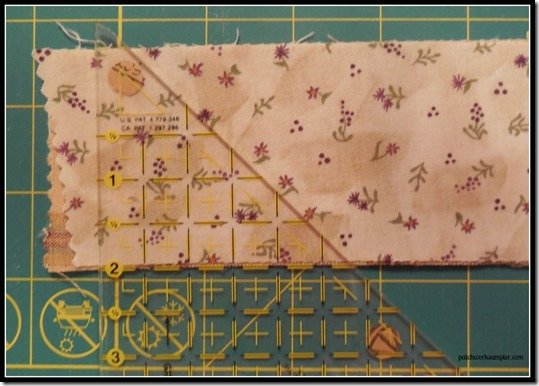 Cut on both the left and right sides of the triangle.  You can then rotate the ruler 180 degrees and continue cutting down the length of the strip.
In addition to the half-square triangles, this block also uses trapezoids or chisels.  To make these units with the connector corner method, you cut 2½" x 4½" or 2½" x 6½ rectangles.  Using the 96 ruler, you simply line up the bottom line at "4" and "6" to make them the correct size.  The 96 measures using the FINISHED size.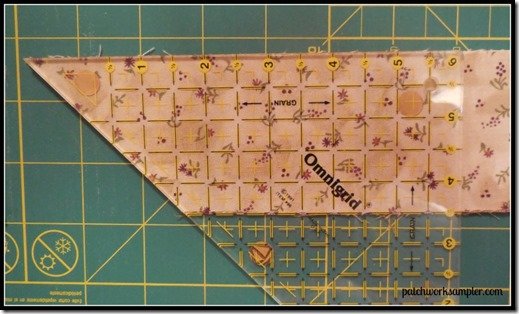 To help everything line up properly, I blunt the tips of the triangles and trapezoids with a point trimmer.  All the lights from the block are cut from the same strip and are ready to be sewn to the red and green triangles.
This block doesn't look very interesting by itself, but the blocks are set together with pieced sashing and it turns out to be a very pretty quilt.  Hopefully I'll get enough sewing time in today that I'll be able to show my pieced top tomorrow.