Every time I see a new line of fabric, I want to make a new quilt. There's just something about cutting into pretty, fresh fabric that makes me giddy! This particular line is Janet Clare's "The Blues" from Moda. I like all her fabrics, but this one is particularly nice because it is BLUE. The prints feature an understated musical theme with staves, crotchets, notes and such.
When using precuts, I typically make a quick and easy quilt to use it up. Villa Rosa pattern cards are perfect for that. I had a jelly roll with some yardage and so "The Lady" was perfect. A digital version of this pattern is available from Villa Rosa Designs here.
I've made this pattern before and it goes together very quickly since it is mostly strip pieced. At the last minute I changed background fabrics and went with an ombre blue instead of an off-white. The contrast is much more subtle with the various blue hues. I'm happy with the results. If I named my quilts I could get cheesy with this one and call it Lady Sings The Blues.
There is still some of these fabrics in my little Etsy store here. There are also some jelly rolls and you can find those in the shop too. Just search for The Blues when you get to the shop.
The quilting is vertical wavy lines similar to what was shown on the pattern. It was easy and gives the illusion of ripples on the water in this blue quilt.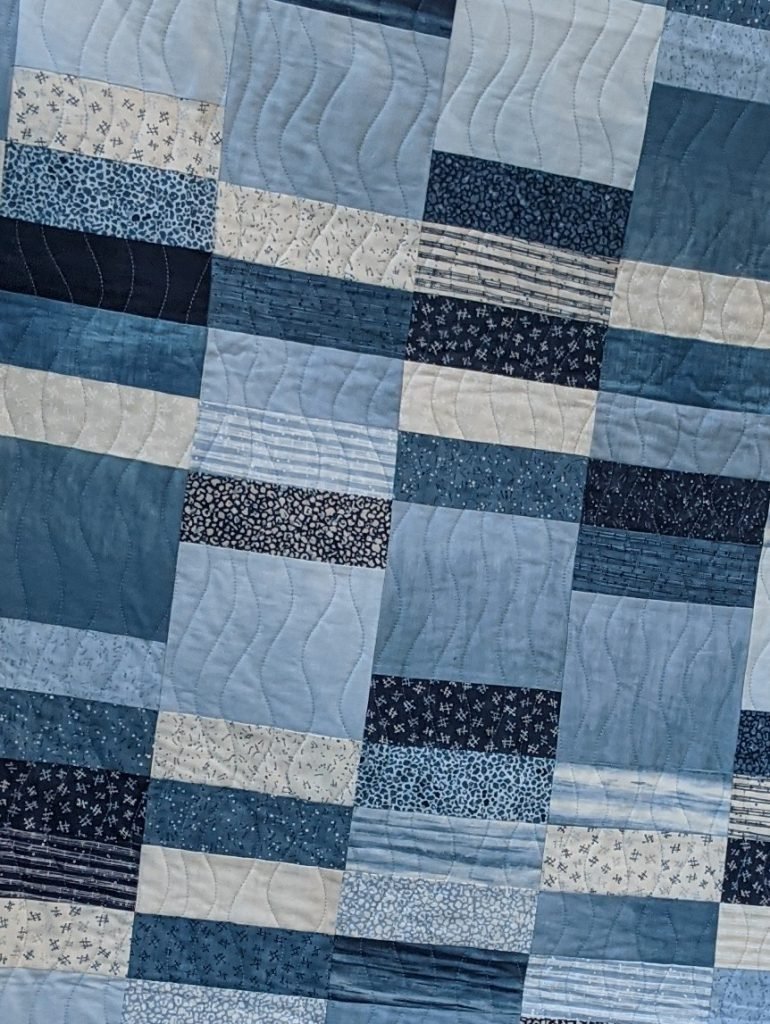 The backing is a coordinating blue flannel (bad lighting in this picture–there is NO hint of pink in this fabric. Haha!).
It was nice to have a quick and easy project. I love quilts that can be finished quickly, don't languish in the UFO pile and make the most of pretty fabric.