Once again, I finished my One Monthly Goal (OMG) right under the wire. Good thing I have that deadline or I might not finish anything. This Propeller Quilt was a UFO for only a few months but it's still nice to complete it. This year I'm trying to finish quilts soon after starting them so they aren't relegated to the UFO bins. Trust me, there are still lots of bins and lots of UFOs but they are slowly dwindling.
Every time I bring a new quilt to fruition my  mind races to tweak the design and the Propeller Quilt is no exception.  I already made some smaller pinwheel blocks and am revamping the setting a bit. To make the quilt smaller I think the blocks need to be scaled down instead of simply making fewer blocks. The proportion would be better for kids' quilts. I think it would be fun in bright primary colors. Ahhh….so many quilts, too little time.
For now though, this one is FINISHED!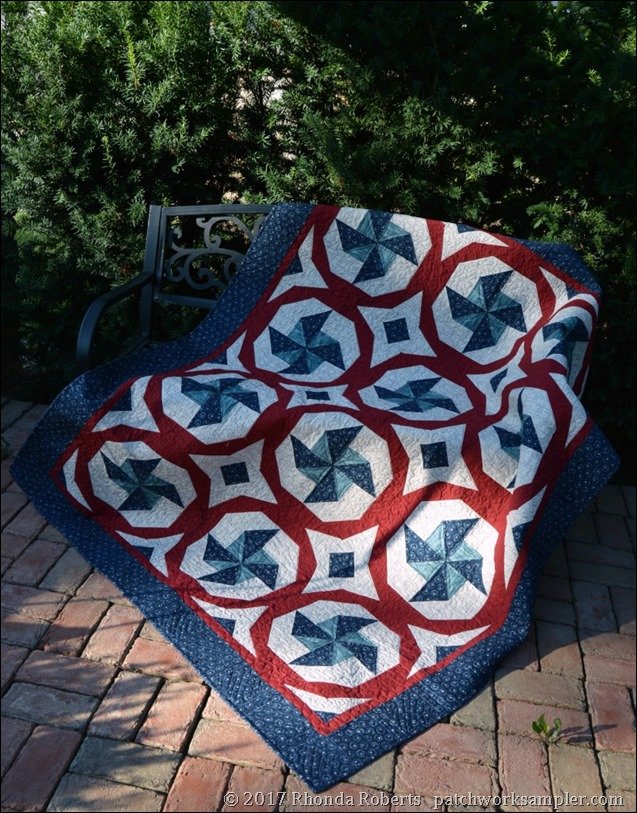 I even tried to do some custom quilting on it. After every quilting session I would lament to my husband that I should be a better machine quilter by now. The three layers are stitched together and it will keep someone warm so I guess that's what really counts. This photo also shows the lovely fabrics. All but the red is from Moda's Flight line by Janet Clare. The red is Bella solid.
Be sure to head over to Elm Street Quilts to check out some other great September OMG finishes–you will be inspired to spend these cooler fall days at your sewing machine!