I've worked in a quilt shop a lot of years and if I had a nickel for every time I've told a customer how important it is to audition borders, well…..you know.  On this quilt, I sure wish I'd followed my own advice. 
Here are the blocks; a nice combination of red, green, brown and pink.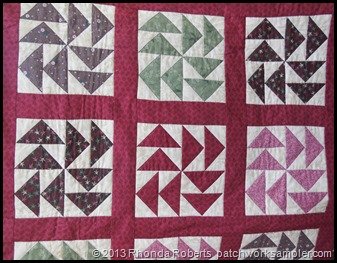 The border I picked looked perfect.  It has all the same colors and is a really pretty print with a dark brown background.
So why didn't it work?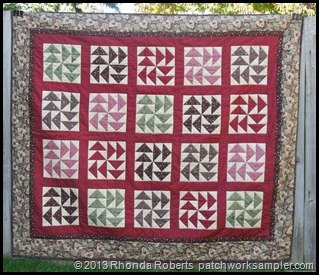 It looks like the quilt center and border are separate.  The border didn't tie everything together like it should.  I think the fabric is too busy and looks too light even though the background is dark.  After it was all sewn together I was never very happy with it and that's why it sat for a long time.  Now it's all finished and I'm still not crazy about it but it will soon be donated.  Hopefully the recipient won't be so critical!