We are using the little town of Kanab as a base for the first part of our vacation.  It only has about 4,300 residents but there are several hotels and restaurants because it is in the center of the "Grand Circle" of famous attractions like Zion National Park, Vermillion Cliffs, Bryce Canyon National Park, the North Rim of the Grand Canyon and Lake Powell.  After leaving Las Vegas on Saturday we went to Zion National Park (next post!) then headed into Kanab.  Our goal was to get settled into the condo, buy a few groceries and find a bar to watch the Wisconsin-Arizona game.
The first two were accomplished with ease but there really isn't a bar in town.  We found Charlie's Oasis Sports Bar and Grill on TripAdvisor and their listing stated they were the only sports bar in town.  We walked in and saw there was no "bar", only the dining room with  TVs (we also noticed a Brett Favre shirt on the wall!)  They explained that Utah has some unusual liquor laws, one being that alcohol can't be served without food.  We were okay with that because we had planned to have dinner there anyway.  Luckily they were able to find the game on TV.
Around halftime two men walked in and they, too, were looking for the bar. When they took their coats off we saw that one was wearing a Packers shirt.  We found out he was from North Fond du Lac and his friend from Glendale.  Small world.  We ended up being the only four in the place and happily cheered the Badgers to victory while enjoying our burgers.
Kanab sits in a basin surrounded by high, rocky mesas or plateaus.  There is a trail on the north side of town that goes to the top so we took a hike.
It was a sunny day but very windy.  I am so afraid of heights and when we got to this point I texted Jen to tell her where we were in case she had to send someone to find our bodies.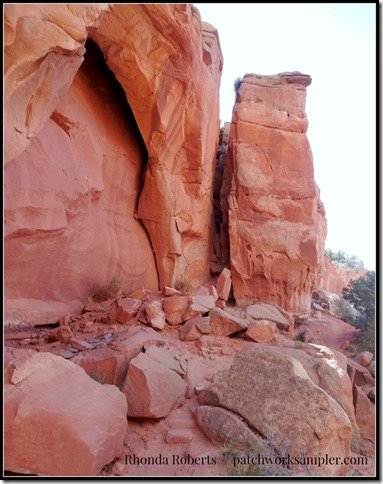 There just wasn't a whole lot between those rocks and the bottom of the canyon!  We made it though and had a wonderful view of the area.
We saw so many colors of rocks on this hike–everything from red to orange to yellow to purple to green.
Not only are the colors beautiful, but the rocks are unique.  Lots of striation and texture.

It's hard to believe that anything can grow in this harsh environment, but we saw several little flowers and plants popping up.

This was a really nice hike and such beautiful scenery.  Jim was just happy we didn't see any snakes sunning on the rocks!