This top just needs borders to become a completed flimsy and wait its turn in the to-be-quilted pile.  The pattern is Sideways and Byways by This & That.  All the fabric came from stash so that's a win.  The pattern doesn't show an outer border but I'm planning to add one using the same fabric that's in the nine patches and center rectangles.  I have plenty of the fabric, it passed the audition and it will end up being a better donation size quilt.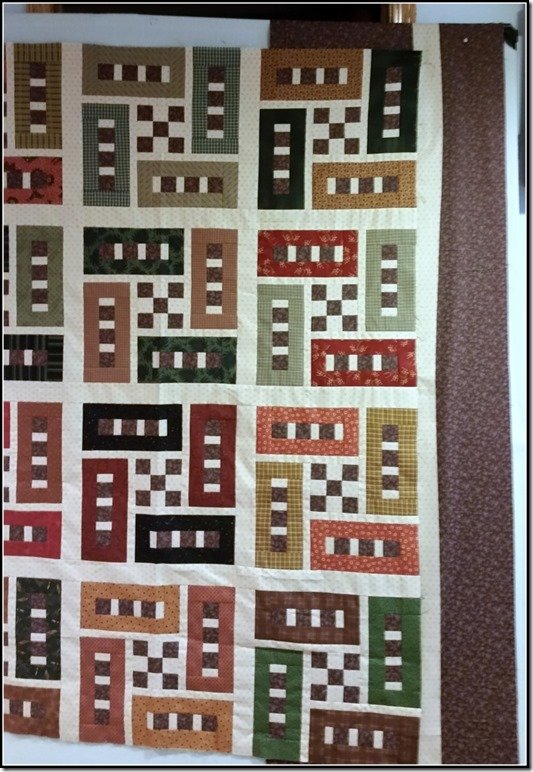 So far my quilting marathon hasn't gotten off the ground.  I finished quilting the Parson Gray quilt, loaded another one, then stalled out.  Last week was the Fox Cities Book Festival and I ended up going to see several authors/speakers so my days were chopped up and I never got back to quilting.  The book festival is only here a week so I wanted to take advantage of the opportunity. 
One of the highlights from the book festival was Miami Herald opinion writer Leonard Pitts, Jr. whose column "A Letter to a Son on His 18th Birthday" I cut out of the paper in 2000 and still read from time to time.  That was back when our local paper carried syndicated columnists
.  It was also fun to see Brittney Gibbons (Fat Girl Walking) who is probably best known as the "curvy girl" who was filmed on Good Morning America standing in Times Square in her bathing suit or maybe for her unconventional Ted Talk.  I also went to programs by Michael Perry (The Jesus Cow: A Novel), David Sheff (Beautiful Boy), and Carine McCandless (The Wild Truth) so it was a nice variety of topics.  I also added a bunch of books to my reading list since now I want to read everything by these authors.
In other non-quilting news, we have a new grand-puppy.  This is Riggs with his older brother Randy.
You can see who won the toy battle.  They are so cute and I look forward to walking them this week—when I'm not quilting!
Be sure to check out other design wall projects using the links at Patchwork Times.