Over the past couple of weeks or so I noticed that my Juki seemed a little noisy.  Then on Friday it started making a louder sound and I knew I was in trouble.  I've taken it apart, cleaned it thoroughly and oiled it generously.  This is a pretty simple machine and there's not too many things that can go wrong, but I'm afraid it might be the motor.  If that's the case, I guess I'll be in the market for a new machine as it will be almost as expensive to replace the motor. 
In the meantime, I'm using my trusty Bernina.  As far as I can tell, it hasn't even held a grudge over the fact that it went from first string to backup!!  It sews beautifully—just not 1500 stitches per minute!!
I'm still working on the Poinsettia top.  All the blocks are pieced and I'm sewing the rows together.  For such a simple block it was a real challenge to lay it out.  I won't be at all surprised to see a turned block or two when it's all sewn together.  It's not really obvious, but the alternate "flowers" in the quilt have different angles.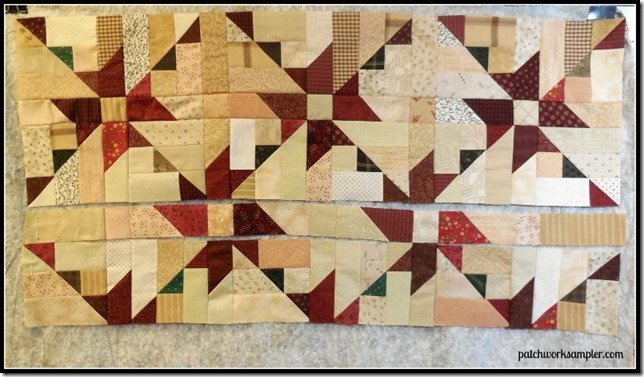 An interesting note about this picture is that the right side is illuminated by an Ott light while the left from a regular fluorescent bulb.  The color is so truer on the right side.  I wouldn't have guessed that it would make such a difference!
Check out what other quilters have on their design walls this week with the links at Patchwork Times.