The weekend weather forecast was not very promising and it looked like Saturday would be the only warm, sunny day.  It was beautiful when we got up so we loaded the kayaks on the car and headed up to Door County.  If you're not familiar with Door County, it's the narrow peninsula that sits between the bay of Green Bay and Lake Michigan.  In addition to the natural beauty of the water, there are state parks, lots of nice restaurants and unique shopping.  Since it's less than two hours away so we left early and made a day of it.
Our first stop was Peninsula State Park.  This is the largest park in the Wisconsin State Park system and it offers something for everyone—boating, hiking, biking, and camping.  It is our favorite park and we try to get up there several times a year.  The water was pretty calm in the bay but it was pretty windy so out in the open water it was a little choppy but not too bad for paddling.
We were out for two hours and I'm pretty sure my arms will be sore tomorrow.   I doubt I'll be able to lift a pan, laundry basket or vacuum cleaner or anything heavier than a couple of pieces of fabric to run under the sewing machine presser foot!!
A friend recommended the pizza at Wild Tomato across from the park so we checked it out and were not disappointed.
After lunch we strolled "in town" for a little while, stopped by Wilson's for ice cream and went back to the park for a hike.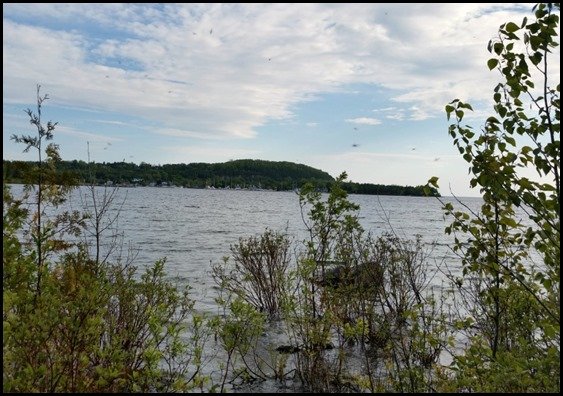 On the drive up I hand stitched the binding on this scrappy Stamp quilt.  This is the first finished quilt from my 40 yard dash challenge.  The second is quilted and ready for binding and two more are pieced and in the quilting queue.  This week will be busy and not a lot of time for sewing but I hope to get at least one more finished.
The quilting in the blocks and outer borders is simple up and down lines.  I practiced circles in the sashing and little posies in the cornerstones.  Easy designs and no marking!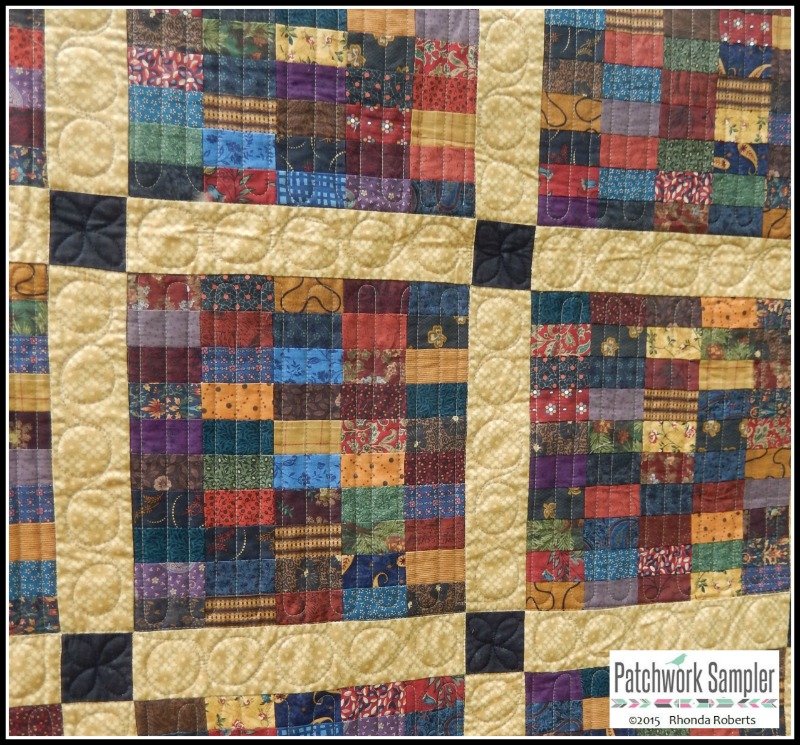 Estimated fabric out of stash for this quilt:  8.375 yards.  I even found an old Thimbleberries fabric for the back.