Twice before I participated in the 100 Days 100 Blocks challenge hosted by Angie Wilson at Gnome Angel. Both times the challenge was based on Tula Pink's City Sampler book. The challenge is to make and post a block to Instagram every day for 100 days. I made this quilt in 2017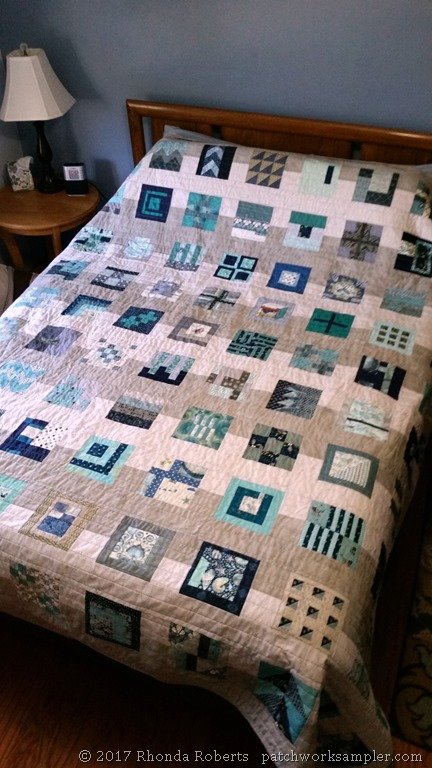 And this quilt in 2018.
This year Angie wrote a new pattern for the challenge. It is called Kinship Fusion Sampler and has 50 8-inch blocks and 50 4″ x 8″ blocks.
Even though I've known about the challenge for months, I dragged my feet on selecting fabric. During my months long sewing room reorganization project I found the box of fabric from last year's Bonnie Hunter mystery, Good Fortune. Even though I pieced a large quilt top from the box, it was still crammed full so I'm using it again. I will add some some mint green to the mix and possibly eliminate the purple.
It is so much fun to participate in this challenge. There are hundreds of other quilters making the same quilt and so inspiring to see all the creative blocks and beautiful fabric choices. It makes me realize I really don't own every fabric in the world. Angie literally wrote the book on fussy cutting, Fussy Cutters Club, so many people fussy cut their blocks and they are gorgeous. I am not a fussy cutter because I hate having holes in the middle of a hunk of fabric and there's a lot of waste but truly admire those who do.
So here we go again. Block 1 was made and posted on July 1 and I can't wait for the next 99!
There is still time to jump in and join the 100 Days 100 Blocks fun. Check out all the details here.