"The work you do today is a gift you give yourself tomorrow."
Jon Acuff
I like this quote so much I have it written on the whiteboard in my sewing room. Jon Acuff's books are so good. Have you read any of them? He has written several including Start: Punch Fear in the Face, Escape Average and Do Work That Matters, Finish: Give Yourself the Gift of Done. Both of these are very funny but have great information on elevating your life above average.
Whenever I read Jon's quote, it motivates me to keep moving toward a goal. The goal may be to piece a few blocks, quilt a bit, or deal with a stack of papers on my desk. Every little bit of progress moves you toward that gift of being finished.
It is a great feeling to put those final stitches in the binding of a quilt. It is a long process to get to that point though. From that first spark of inspiration to that last stitch of binding, days, weeks, months, or even years can pass. First, you select a pattern, then pull the fabric, start cutting, then piecing. You move on to pressing, sewing the top together, more pressing. Next, you add borders (more pressing), then find and piece a back (and do even more pressing!). Finally, you are ready to quilt, which brings on a whole new set of decisions; quilt it myself, send it out, how to quilt it, and on and on and on.  With the finish line in sight, there is still the binding and label to sew.
What a wonder that any quilts are ever finished. At each step, there are so many opportunities to drop the ball and abandon the project. Yet, we mostly press on and finish and finish our quilts. What a great feeling when we do finish. It is so satisfying to see our quilts on the bed or wall and how fun to share pictures of these beauties to our quilting friends.
This week, I urge you to make some progress on at least one of your ongoing projects. Make one of them a gift you give yourself by being that much closer to sharing that finish!
So, how did I do on last week's list?
Finish blue floral UFO
Piece tumbler top
Quilt Rectangle Wrangle
Piece Violet blocks
Binding Ombre Stars
I am happy with the way this tumbler top turned out. Now if I could only find the backing in my disorganized stash I would be ready to quilt it.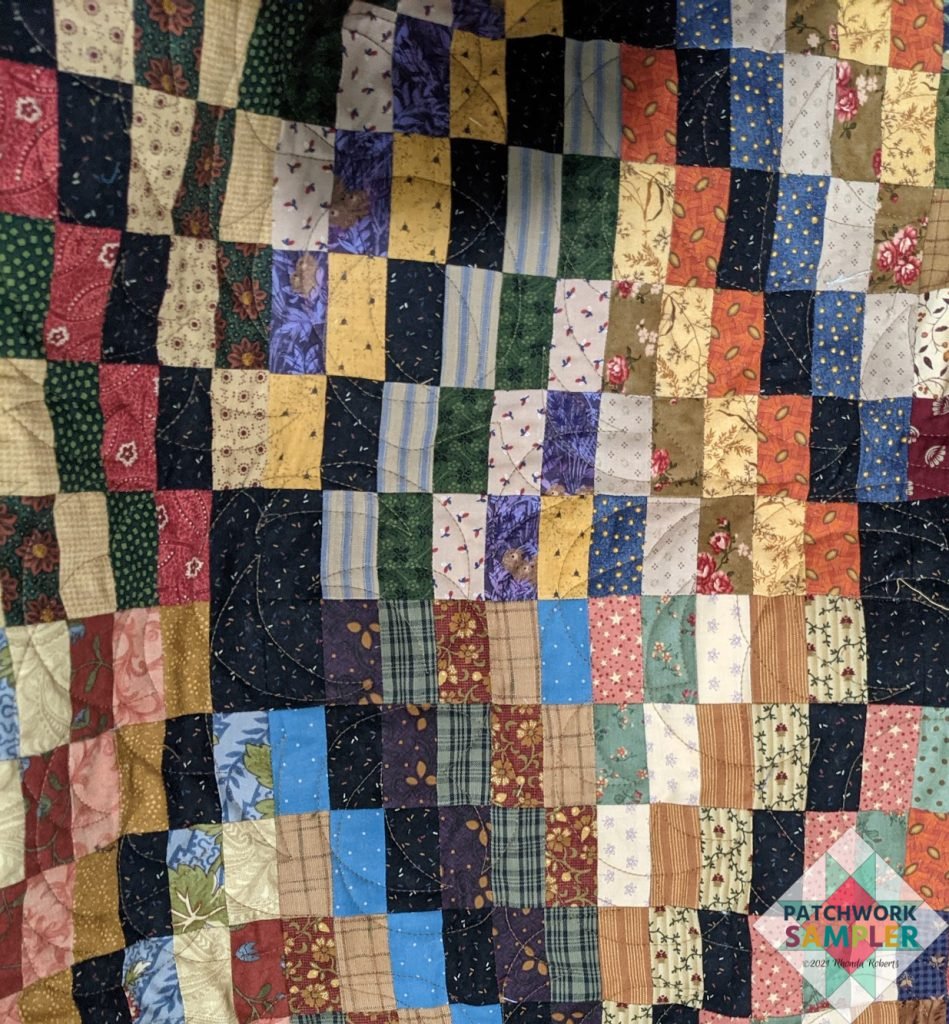 Rectangle Wrangle is ready for binding. I just have to decide whether to do it all by machine or hand stitch. I'm leaning toward machine binding since it is a donation quilt.
Last Friday I shared the January (Ombre) Stars finish. I'm not sure what I will do with that quilt so it is biding time in the Quilt Repository bedroom.
Violet blocks are pieced but I still didn't finish that darn blue floral UFO. That needs to be a priority this week. So my goals for the week are this:
Finish blue floral UFO
Binding-Rectangle Wrangle
Quilt tumbler top
Piece Violet top
Piece Blooming Bunch top
Cut batik pineapple
With that list, I hope I have a lot of time in my sewing room this week! How did you do last week? What are your goals for this week? Let's get moving and get some things finished!