Last week I decided to put Celtic Solstice aside a little bit so I could work on some other projects.  The center is now together and I'm working on piecing the borders. Of course, I'm changing them from the pattern to something that requires twice as much piecing so I'll work on that over the next couple of weeks.
Since I've been so caught up in Celtic Solstice my cutting table looked like this—fabric and papers everywhere.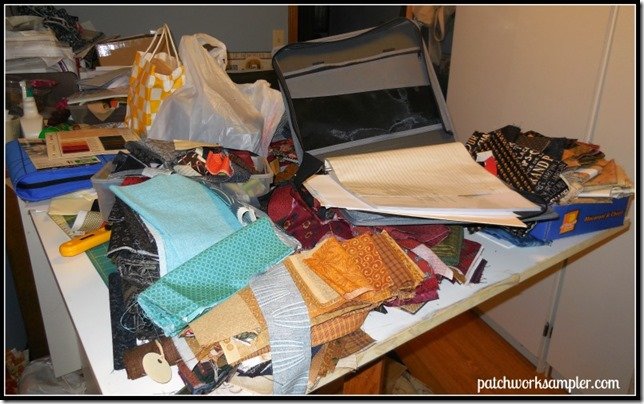 So I spent some time, cleared it off and started a new project.  I realized this is the first new project I've started in 2014.  That's probably the longest time I've gone without starting a new quilt (or 10) in the 25 years I've been quilting.
The last time I did a major cleaning in my sewing room I found some class mysteries that we hadn't done at the quilt shop before we closed it.  I thought it might be fun to do one with our small quilting group and when I asked everyone about it, they were all on board.  Almost everyone has already started this so I'm playing catch up.  It took awhile to find suitable fabrics for this quilt but this is what I selected:
I just love that dark orange print and once I saw that it had teal and brown in it, I had my fabric palette.
It didn't take long to get caught up on the piecing and here are some of the parts I've sewn so far.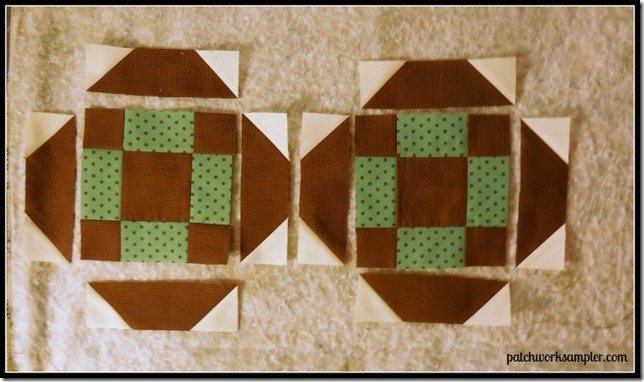 Fortunately, this mystery isn't nearly as involved and intricate as Celtic Solistice!
Be sure to click on the links at Patchwork Times to see other design wall projects.