Happy New Year! Do you make new year resolutions? I'm currently reading the book "Finish" by Jon Acuff and it is very enlightening about goal setting. This is a very appropriate book for me since it is time to set my One Monthly Goal.
Over the past few days I have read several "year in review" blog posts, thought about writing one, but ultimately decided my year was not worth reviewing. In 30 years of quilting, 2017 was probably my least productive. I contribute this primarily due to travel and burnout. We took a number of trips that were not conducive to hauling along a sewing machine. I don't enjoy hand sewing so do as little as possible. Instead, I use the time to catch up on reading since I will never live long enough to read all the books I would like to.
Toward the end of the year, I felt overwhelmed with quilting stuff—too many books, patterns, UFO's, kits, and notions and WAY, WAY too much fabric. There are even too many quilts in our house. If I want to make more, I have to make room and get rid of some. It was even stressing me out trying to find places to donate quilts. For the first time in ages, it wasn't fun to spend time in my sewing room. I had to take action to get things under control again. It will be a long process, but I am slowly wading through boxes, bins and cupboards trying to sort out what I want to keep and getting rid of the rest. One thing is for sure—what was appealing 10 or more years ago is no longer appealing.
Oh, but with the new year comes renewed optimism and I'm ready to start sewing again. The new year also brought a forecast of frigid weather for the foreseeable future so I'll be spending lots of time doing indoor activities. I want to redecorate a bedroom and plan to use the Points of Interest quilt on the bed.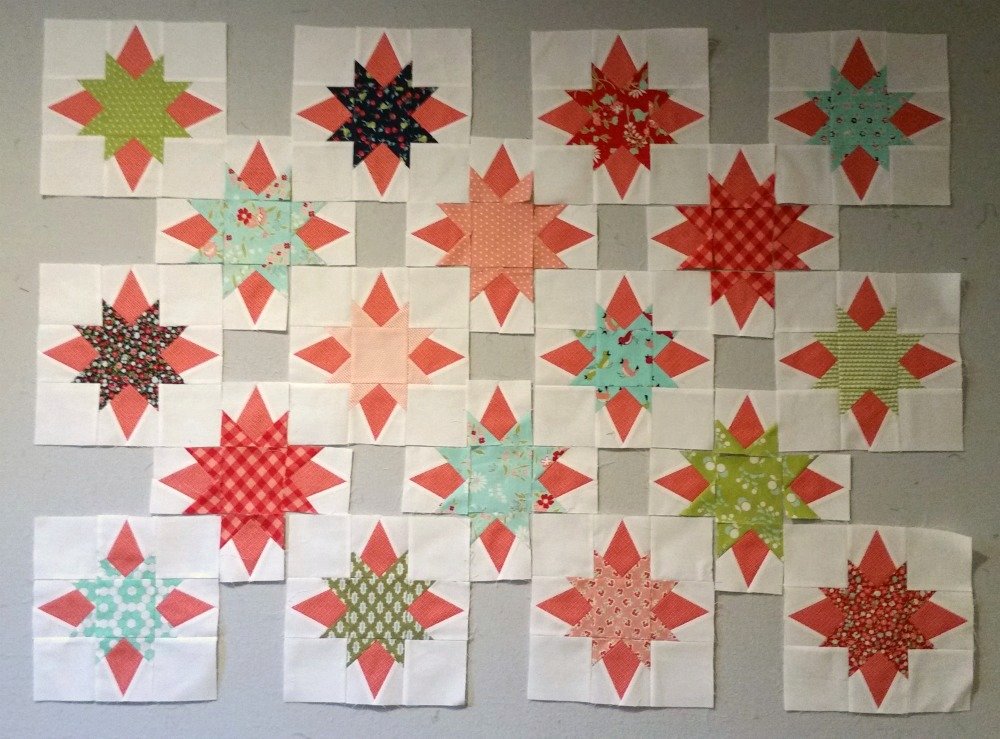 This quilt was started at the retreat I attended last August. The blocks are all pieced and most of the border units are cut so I think I can complete it this month. Anyway, that's my One Monthly Goal for January. Of course, I would like to finish other projects, but even this one would be a worthy accomplishment.
Please stop by Elm Creek Quilts to check out other goals for this month.