The bad news is time flies.
The good news is you're the pilot.
                         Michael Altshuler
This quote popped into my head a lot this week. One year ago today, Jim and I were in Lexington, Kentucky on a tour of Buffalo Trace Distillery. It was a glorious day and after the tour, we had lunch at a little brewery overlooking the Kentucky River in Frankfort. At that time, Dr. Fauci was still telling us we should be cautious, but this new coronavirus should not create much concern in the United States.
So, we continued our trip, spent some time in Asheville, North Carolina, then made our way south to Savannah, where we met some friends. By that time, the alarms had sounded and people were beginning to grow concerned. We were still able to enjoy our time in Savannah, which, by the way, is one of my very favorite cities to visit. We left Savannah and went to Greenville, South Carolina and by then we were only doing outside activities. Of course, you know what happened after that. We have all had our lives turned upside down this past year and have had plenty of time to think about our priorities.
I love to make quilts. That is a priority in my life. The hum of the sewing machine is my therapy. What is not a priority is owning quilts. Over the past 30 years, I have churned out quilts one after another and have hundreds of quilts in my house. I don't need or want more. I am not attached to any of my quilts and have no qualms about giving any of them away. In order to help cover batting expenses, I will occasionally sell a quilt, but the rest are donated.
My quilting projects have changed over the years because I don't keep many.  Usually, finished quilt sizes are adjusted to accommodate the requests of various organizations. Most of the designs I make are fairly simple. I don't have the attention span to work for months or years on a single project. Buying beautiful new fabric still is exciting even though I have enough to last the rest of my life. I realize that time flies.  But I am the pilot of my life. I can adjust my priorities to make time for what is important to me.
So this is what I did with one of my goals from last week.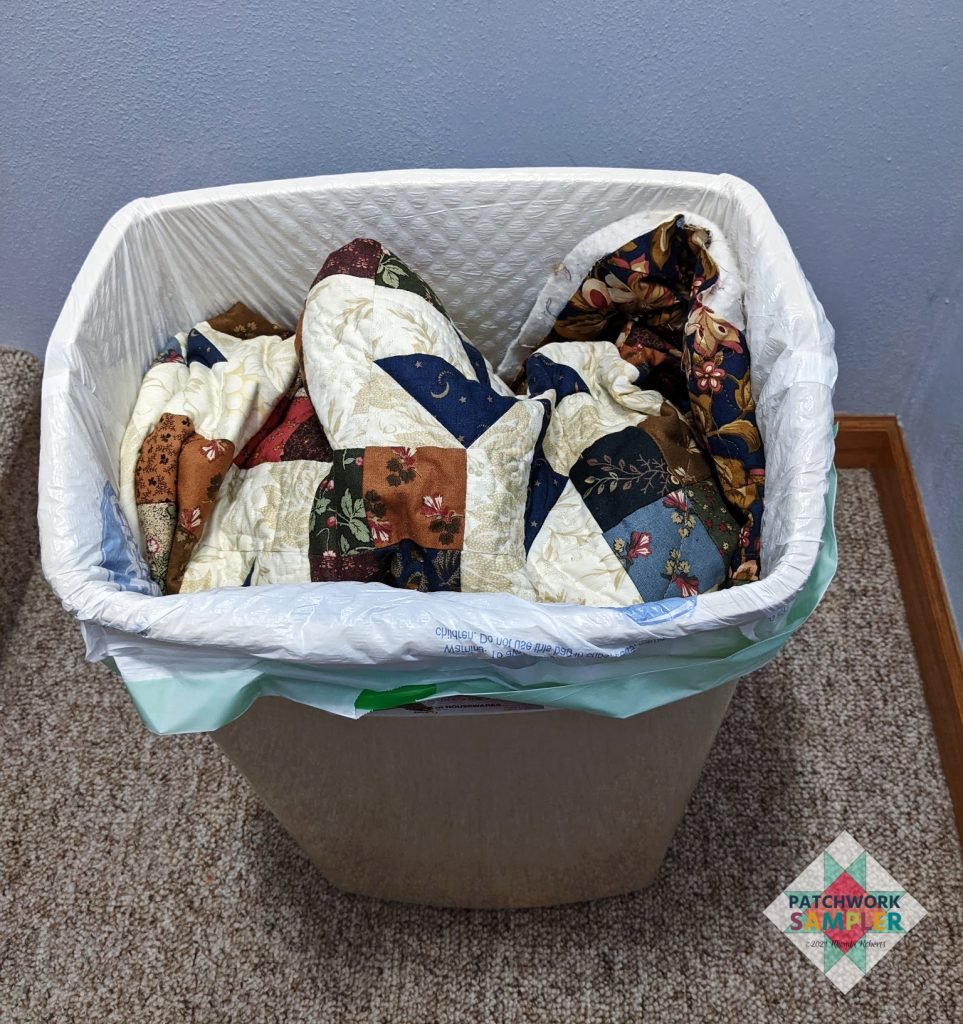 This project has been a UFO, taking up space in my basement for over 20 years. I had decided to finish it, realized it had a mistake, and fixed the error. I reloaded it on the frame and started quilting. After quilting for about 10 minutes I asked myself why? I have no use for this quilt. It is not a good size for donation. This house has very little wall space for display. I already have dozens of lap quilts and don't need another. Not only that, when I originally started quilting this quilt, I used nylon monofilament. I resumed quilting with cotton since I no longer have any monofilament. It bothered me a little that it didn't "match" but that wasn't really a dealbreaker. It sat for a week, but ultimately I decided this project was not worth another minute of my time.
The bad news is time flies. I could argue that that's not always a bad thing (you don't want a toddler forever, do you?) Coincidentally, today is my birthday, which brings into focus just how quickly time passes. We've all spent the past year unable to do so many of the things that bring us joy. The good news is you're the pilot. It is up to you to make sure you travel in the direction you want to go.
Weekly Goals
Even though I got rid of one project, I still didn't get much accomplished. I am now volunteering at the county COVID-19 Vaccination Center a couple of days a week. Last week I was also plagued with migraines so was not very productive.
Sewing Goals Week of March 1:
Finish quilting blue floral UFO –

ABANDONED

Cut batik pineapple-

in progress

Binding-Homespun Tumbler quilt–

finished

Quilt Violet-haven't started
Quilt Blooming Bunch-

in progress

Piece center of blue stars quilt-haven't started
Hopefully, this won't be a migraine week, but I still have a few volunteer shifts. I'm always optimistic about what I can accomplish though so here's my list for this week.
Sewing Goals Week of March 8:
Finish cutting batik pineapple
Finish quilting Blooming Bunch Link-Up
Quilt Violet
Piece center of blue stars quilt
Piece Good Fortune center
I hope we all have a very productive week. Let's use fabric and make quilts!