With Independence Day around the corner these patriotic quilts were perfect for June's One Monthly Goal. After not completing May's OMG, I needed the satisfaction of finishing something!!  It was another busy month but I had just enough time to finish the tops and quilt them. Then some hand stitching bindings while watching World Cup soccer was all it took. These were old, old UFO's–so old in fact that I can no longer find the patterns for them in my sewing room.
I was pretty sure this was a Pat Sloan design, but I couldn't find the pattern in my stash. A Google search was more effective and it is called Slice of Summer. I wish I could find some buttons that look like watermelon seeds because I'm not going to embroider them so it might just stay this way. After after so long, it really doesn't matter.
This quilt was a block of the month from our Patchwork Sampler brick and mortar shop. I thought it was from Village Arts but I can't find anything online to confirm that.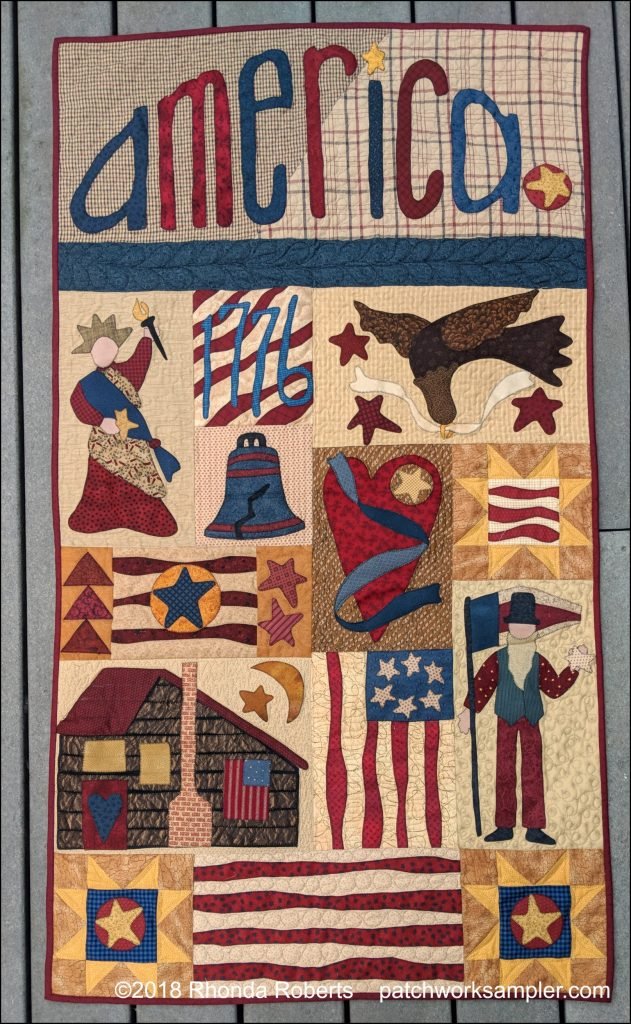 It always intimidates me to machine quilt applique quilts. For this one, I just practiced a few techniques–
a little pebbling in the background,
some circles in the flag stripes, continuous curves, loopy swirls, wavy lines and more!
One thing for sure is I've learned much better techniques for quiltmaking since I started these. I wish the fusible had been window paned. Both are quite stiff and I hope they will be flat when hanging. I'm really not sure what I'll do with them. We don't have much blank wall space in this house and don't really decorate in this folk art style. It would be nice to display them for patriotic holidays though, so I'll try to figure out something.
One Monthly Goal was just the push I needed to complete these old projects. I'm looking forward to finding something for next month's challenge. Be sure to check out the links at Elm Street Quilts to see what other quilters finished up this month.