Are you doing Bonnie Hunter's Good Fortune Mystery? I did not plan to do this one, but somehow found myself drawn in. After hearing so much chatter online about fabric choices and the general frenzy that comes with one of Bonnie's mysteries, I quickly gathered a bunch of fabric and started cutting. If you haven't heard about the mystery and want to check it out, the link is here.
Bonnie's colors are orange, red, blue, green and neutral. This is what I'm using.
I switched coral for the orange, purple for the red, blues shading toward navy, and aqua for the green. My neutrals are quite varied and I'm not sure they are going to work well together. Mostly I just pulled them from the scrap bucket on my cutting table. I'll probably need a few more so I will still have a chance to get them to play nicely together.
So far the clues have been easy. I started with Clue 2 and figured I would catch up on Clue 1 as the mystery progressed. 252 half square triangles went pretty quickly though. Bonnie included a couple of construction techniques for making the triangles. Of course, you are free to make them your favorite way as long as they end up the correct size.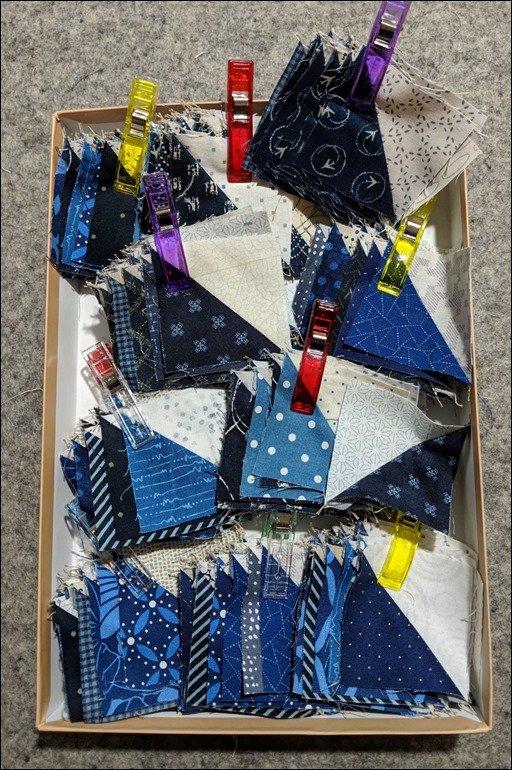 They went so quickly, in fact, that I went ahead and made the 240 four patches from Clue 1. The instructions show how to spin the seams on the four patches so they will nest nicely with other units later. Yes! I love nesting seams!
Now I'm caught up and tapping my toe, waiting for Clue 3 to arrive on Friday! If you want to join in the fun and start your own Good Fortune Mystery, there's still time. You will find all the details here. If you are unsure about making a quilt without knowing what it will look like when you're finished, you can just save the clues and decide later whether or not to make it. It's fun doing it as a group and looking at the link up pictures every week. The pattern will only be available for free until the end of January so don't wait too long to check it out.