Usually I plan a piecing project so the sewing is very efficient and I don't need a leader-ender.  Plus, I find it very difficult to stay on task with two projects at once.  If I piece something simple like a nine-patches as leader-enders, I lose them before I put them into a quilt.  With the French Kiss quilt though, there were hundreds of short little seams that needed to be pressed after being sewn to the block so I thought a leader-ender project might be in order.
I saw a very simple quilt on Pinterest that looked like it would work perfectly.  The link to the project was broken, but it only took a few seconds to figure out the pattern.  I had a jelly roll of Kate Spain's Horizon fabric, so I hacked it up into little rectangles and the leader-ender project was born.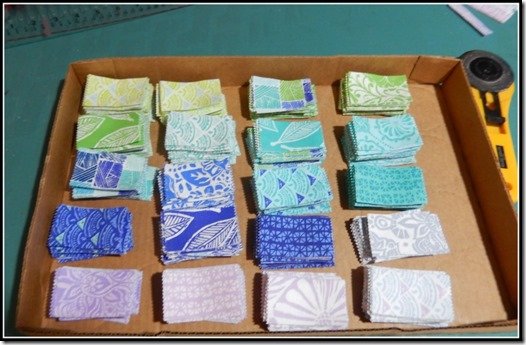 This is very pretty fabric, but I kept thinking about Bonnie Hunter's line, "If the fabric is still ugly, you haven't cut it small enough."  These are really small rectangles and this would be a perfect stash scrap project.
After I started it, I did a little more investigation so I could properly credit the designer and the pattern is called Stamp by Edyta Sitar of Laundry Basket Quilts.  Of course!  I love her stuff!!
Now that the piecing is finished on French Kiss, I'm sewing the blocks together for Stamp before I lose them!
I'm linking up with Judy at Patchwork Times so be sure to click the link and take a look at other inspiring design wall projects!