Many, many quilters will probably have this mystery quilt on their design walls this week.  It is Celtic Solstice by Bonnie Hunter of Quiltville.  It's not too late to start and you can find out all about it here.
I went back and forth over whether to start this or not, then decided what the heck, what's one more project.  Bonnie is using orange, blue, green and gold with a neutral background and I knew those colors would be hard to find in my stash so I went with what I have.  I haven't pulled all the fabrics, but will find them as the clues progress.  The first clue called for 3.5" strips so I went through my bin of 3.5" strips and found what I needed for the neutrals and red that I'm using in place of the orange.  There weren't enough black strips so I cut some strips from fat quarters.  I'm using black instead of blue.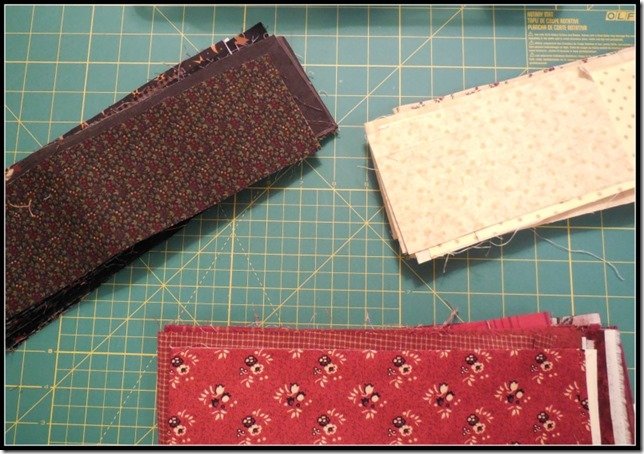 This clue uses the Tri-Recs ruler which is one of my favorites.  I love these units and it was a big part of why I joined in.  I've cut all of the "Tri's" and a good part of the "Rec's"—340 sets of them for the large size (!) so I started sewing.  This is what I have so far:
Reds and black: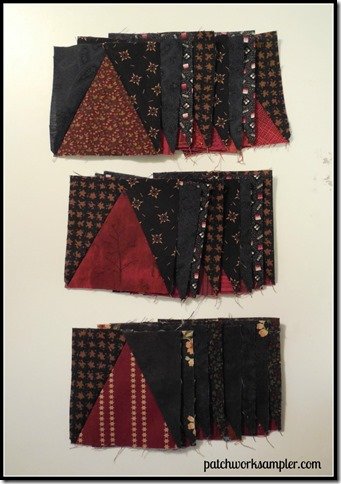 and neutral and black:
Unfortunately, I probably won't be able to keep up with this mystery and finish each step before the next one is posted but I'm going to try to sew on it a little bit every day.  Yesterday I made a list of projects that need to be finished this month and it was quite lengthy.  Guess I will be spending a lot of time at my machine—oh darn!!!
Take a look at other color choices for the Celtic Solstice mystery here and other design wall projects on the Patchwork Times link-up here.