When Bonnie Hunter revealed Step 2 of the Celtic Solstice mystery on Friday I just had to laugh.  It calls for 976 connector corners!  There are 488 little rectangles with a connector corner on each end.  After my post last week about trimming blocks I KNEW I would have to find another way to piece these units.  Fortunately, it was pretty easy.  It will still take a lot of time to cut and piece all of these, but I'll be able to do it following my motto of cutting accurately, piecing accurately and being done with it.  No trimming except for dog ear corners!
The corners were simple to figure out.  They are just half square triangles cut from 2" strips with the Omni 96 (or Easy Angle) ruler.  The neutrals—align the ruler on the 1.5 line (the Omni rulers measure in FINISHED sizes).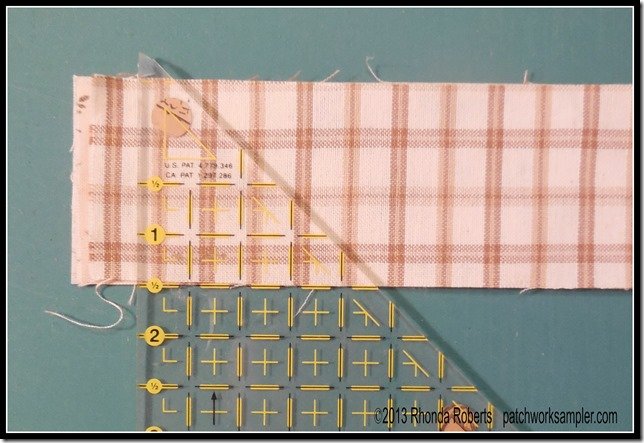 Continue cutting along the strip, rotating the ruler 180 degrees after each cut.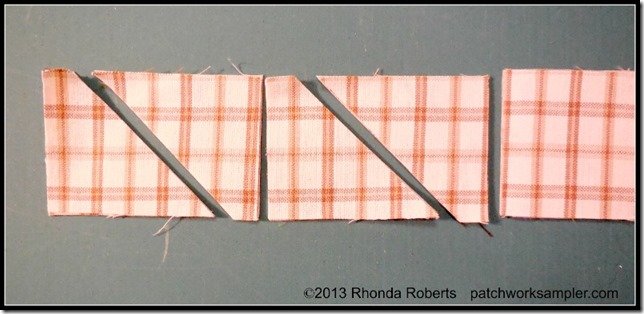 Then do the same thing with the golds, which I am using instead of the yellow.
The center (green) part was a little harder to figure out.  I made it easy on myself by piecing one using Bonnie's method, cutting the corners off using an accurate 1/4" seam allowance and measuring the unit.  Just like the "Recs" from step 1, if you cut these strips wrong sides together you will get mirror images, so I'll have both the up and down sides of the chevron.
First, I cut one 45 degree angle so I could make sure both ends go the same way.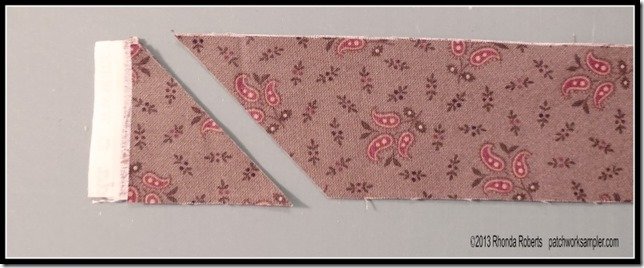 I could then cut the trapezoid units by aligning the 45 degree line on a ruler and cutting at 1-5/8".  This Omni ruler makes it easy because it is gridded in 8ths.
Again, just continue cutting down the strip.
Once all the pieces are cut, sew the half square triangles onto the ends of the trapezoids.
It's easy to press the sides in opposite directions so the seams nest.  This is how I remember to piece.  The right side seams go up—"up right" and the left seams go down—left and down have four letters.
Sew the two halves together and voila!
Several projects on my plate have deadlines this week so I didn't piece many of these, but most of the cutting is finished.  I would guess it will only take about an hour to cut everything.  The best part is all of the strips will come from my 2" strip drawer.  Maybe the drawer will close now without a lot of coercion!!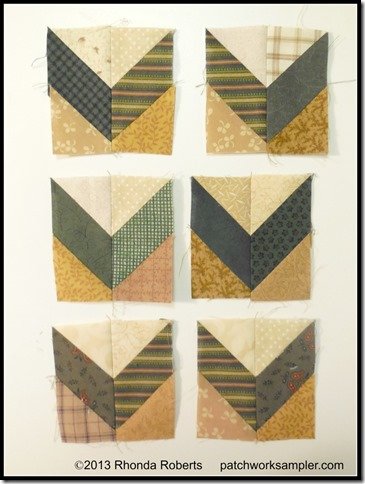 I love these little blocks.
This is the worst picture EVER, but I finished the Honky Tonk top this weekend.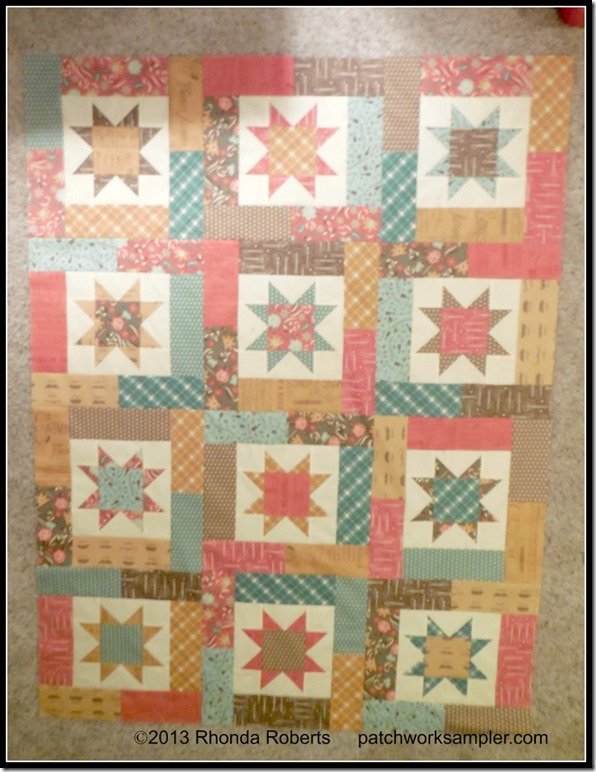 I will try to take a better picture at work today when the light is better.
Be sure to check out other Celtic Solstice progress with the links at Quiltville and other design wall projects at Patchwork Times.