This quilt was another UFO I came across recently.  It was supposed to be a shop sample but the fabric was very popular and sold out before this was finished.  The center blocks were pieced together and all of the borders were in little baggies.  Too bad I didn't find it before Christmas as it would have been a nice quilt to display over the holidays.  Hopefully I'll get the binding hand sewn before next Christmas!
I love the Woodpile block border on this and will have to remember it when I need a scrappy border in the future.
This year I'm trying to focus on new quilting techniques and this quilt really stretched my abilities.  It's always hard for me to decide WHAT to quilt in blocks and open areas.  Some things worked better than others in this quilt and just about everything would benefit from a little more practice.
In the dark areas of the Woodpile blocks I used a medium-sized meander.  The light areas got a freehand feather filler.
Unfortunately, once I rolled this top border I forgot I have quilted a little stipple around the feather and didn't do that on the side and bottom borders.  Of course I didn't discover this until the quilt was off the frame and I was sewing on the binding.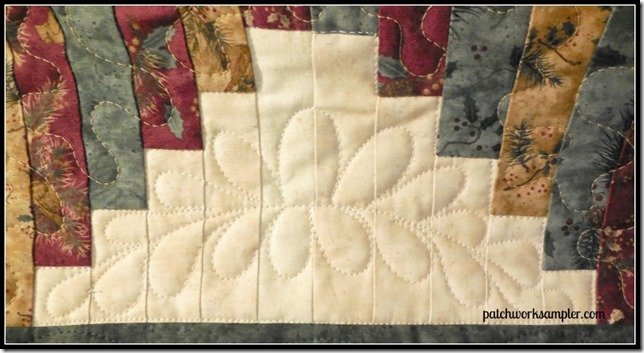 It shouldn't be too hard to fix, just a pain in the neck to do it!
The outer border was a pantograph that I pinned to the quilt to make sure it would be straight.  I've never used a pantograph on a border because it seems like it could easily veer off the top or bottom if the quilt wasn't held exactly straight on the frame.  It worked really well to pin the paper to the top and quilt it from the front. The red narrow inner border just got a little wavy line.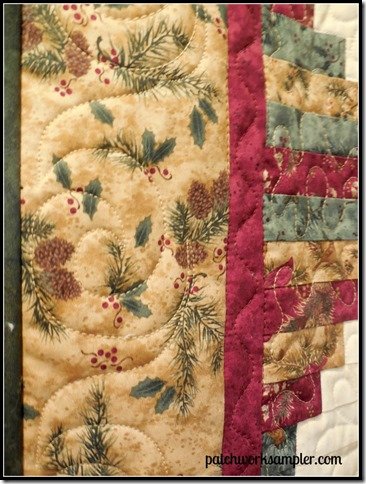 In the cardinal blocks, I outlined the birds and branches and quilted a small meander in the background.  The frames were quilted with straight lines and the red setting triangles got freehand wavy up and down lines.  There isn't a picture, but the green framing border is a little cable design.
It seemed like it took FOREVER to quilt this, but I'm impatient and in reality it probably wasn't that long.  It was on the frame for several days since I never really had a day with a big chunk of time to work on it so it seemed like it took longer than it actually did.  Overall I'm pretty happy with it and really like some of the quilting techniques I tried.
I'm linking up with Patchwork Times so you can check out lots of other great projects!