Whenever I see pictures of quilters' studios I wonder where all their stuff is.  Even at it's cleanest, I have things crammed everywhere.  Once a year, over the Thanksgiving weekend, someone sleeps on the sofa bed (my thinking couch) in my sewing room.  To say it takes a Herculean effort to de-clutter enough to pull out the bed is an understatement.  I have a hard time staying on task in this room and could spend hours combing through UFO bins, baskets of scraps and boxes of patterns.  I was encouraged to be able to combine enough projects to eliminate two large bins. That must mean I've been sewing something!
It is nice to work in a relatively clean and organized room, but it still looks like this: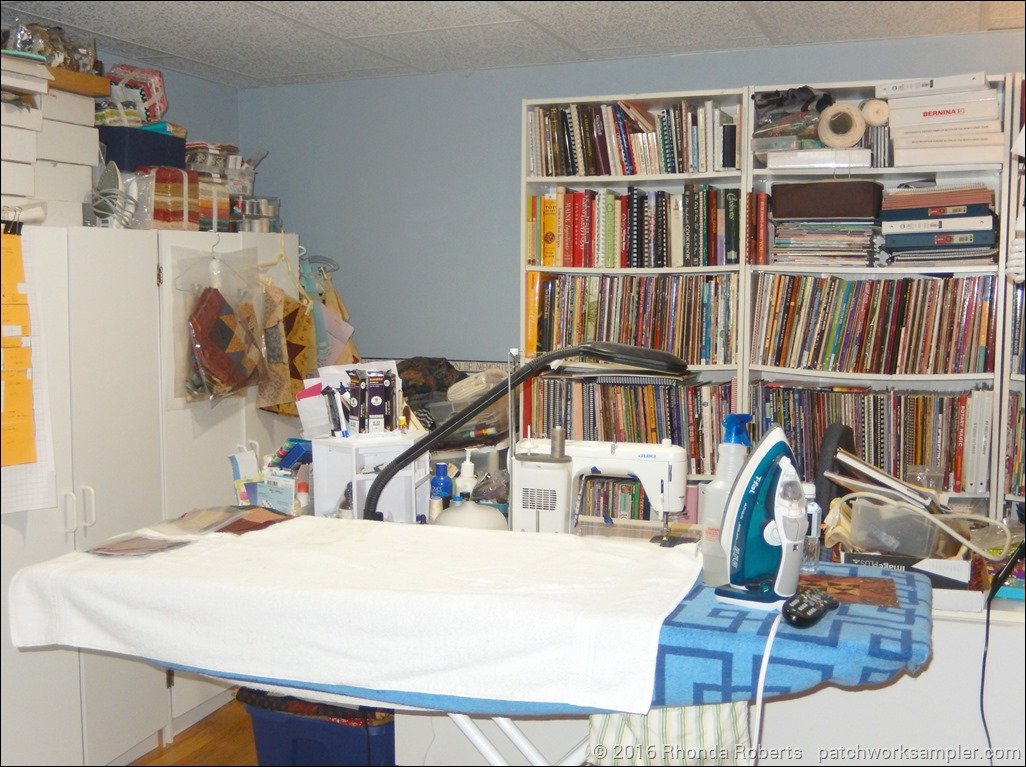 I'm unapologetic about it though.  I work in here almost everyday and can pretty much find whatever I need so it works for me.
Part of the "fun" of cleaning in here is rediscovering forgotten treasures.  In one of the bins I found lots of little block of the month bags.  When our shop first opened in 1997 my business partner, Kim and I had the brilliant idea to cut blocks of the month.  This was a relatively new concept at the time and our spin on it was that we would precut all of the pieces.  We optimistically cut 25 sets the first day and crossed our fingers they would sell.  It turned out to be more popular than we could have imagined and we ended up cutting hundreds each month.  Kim and I alternated writing a pattern (hand written at the time!) and making the sample each month.  As a result, I think both of us only have our half of the blocks finished!  In the most recent excavation, I came across some of these very first block kits and had a nice time reminiscing. 
Meanwhile, the four patch fun for Trail Mix continues.  These are really small!  I now have 44 sets of four and can start part 2 of the triple four patches.