This week's numbers for sewing time are dismal:  3 hours, 42 minutes.  I started the week in Kansas City, ended the week in La Crosse and had work days in between so there was little time left for anything but laundry and errands.
All the sewing time I did get was for one new project, called Sweet and Simple.  It is another quilt from my 40 yard dash fabrics.  It doesn't look like much yet, but it should be a nice donation quilt when it is finished.
We went to La Crosse to cheer on our daughter as she competed in her first triathlon sprint. Here she is, looking pretty chipper, leaving for the staging area.
Up first-a 4/10 of a mile swim.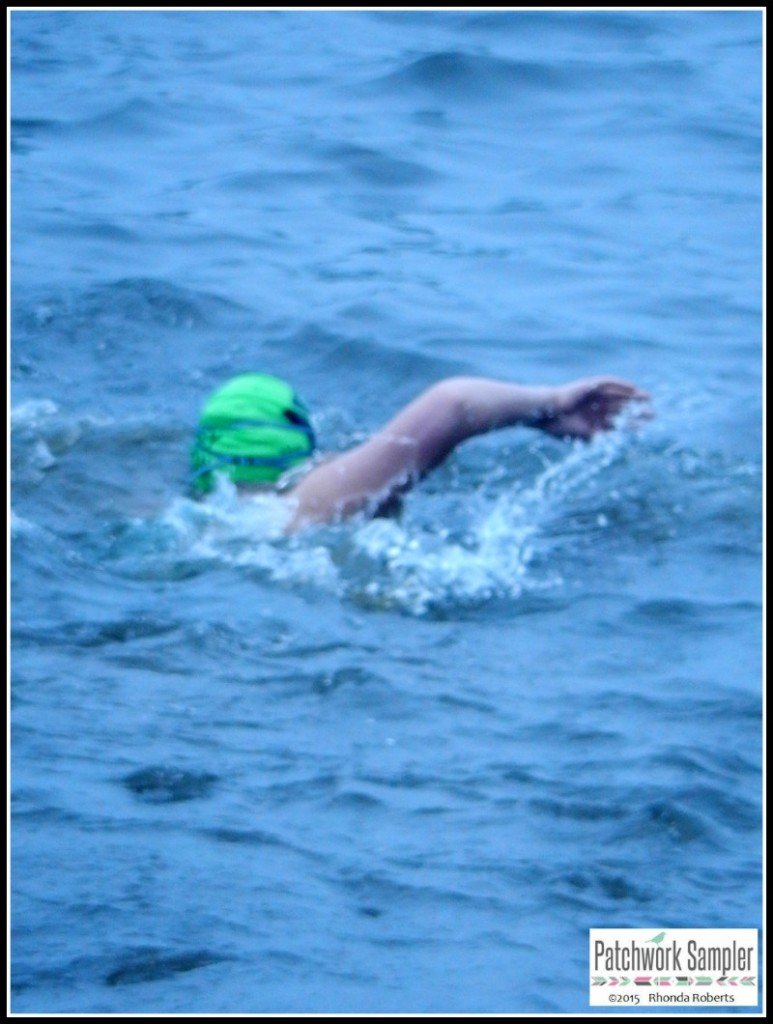 Swim cap off and bike helmet on, she's ready for a 17 mile bike ride.
Still smiling, it's time for a 5K run.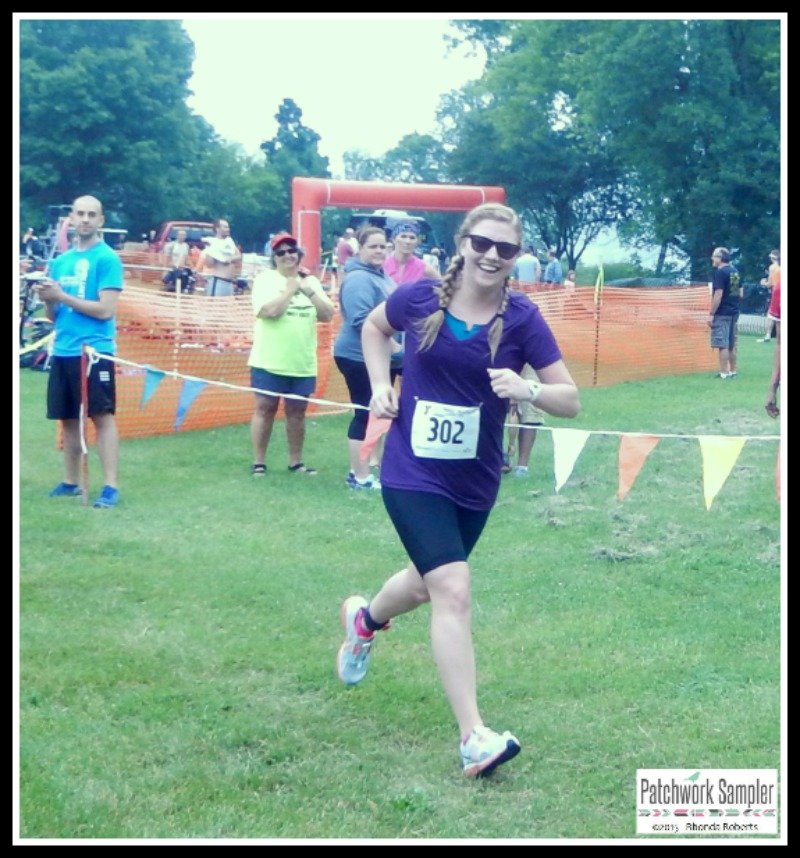 And crossing the finish line an hour and 42 minutes later.
Her goals were to finish and not finish last and she accomplished both!  See "Linda's" in the background above? That's where we waited for her to finish the bike part of the race.  Linda's is a local bakery!!
Our entire time in La Crosse wasn't fun and games.  We also had a little time to visit the quilt shops.  This was my first time in River Road Quilt Shop and for sure we'll go back.  One part of the shop has garden items, flags and gifts and the other part is quilt shop.  Jim browsed through the garden section and found something he had been looking for–a rotating flagpole that is supposed to prevent the flag wrapping around the pole.  He hasn't had a chance to put it up yet but I hope it works.  In the quilt shop I found the new Wisconsin State Shop Hop fabrics and picked up a charm pack and a few fat quarters.
Just to be fair to everyone, I got a couple of fat quarters from Olive Juice Quilts, too!
Total stash added this week:  2-3/4 yards
Total stash used this week:  10 yards (Emma Lee's Chevron Candy Quilt) + 12 yards (Mint Condition-Blue Skies) = 22 yards.
Net this week:  -19.25 yards
Total for year:  +46.5 yards
At least it went in the right direction this week.