In my stash there is a LOT of this fabric called Cat Nap'n—we're talking probably 50 yards or more. It's kind of goofy looking, but the colors are bright and cheerful.
As I found out with my 40 yard dash project a couple of years ago, it takes a lot of sewing to use up that much fabric.  I acquired all of this in a round about way and am sick of it taking up shelf space.  I haven't been inspired to use it, but in my quest to reduce my stash by half, it is past time to jump into action and get it out of here.
First of all, I picked a couple of quick patterns, Quick Strippie from MaryQuilts.com and  perennial easy favorite, Yellow Brick Road by Atkinson Designs. I had to buy a little bit of solid looking coordinates to make it all work (I know, crazy to put money into this!), but once there was enough variety, I started cutting; six of each quilt.  They should average close to 4 yards a piece so that would get rid of 48 yards.  Once those are finished, I'll see what's left and either make more or donate the rest of the fabric.  I'm sure I'll be tired of looking at it by then. 
Right now, two Quick Strippies are pieced, one is on the frame and the other ready to load.  The blocks are made for all six Yellow Brick Roads and two that look like this are pieced.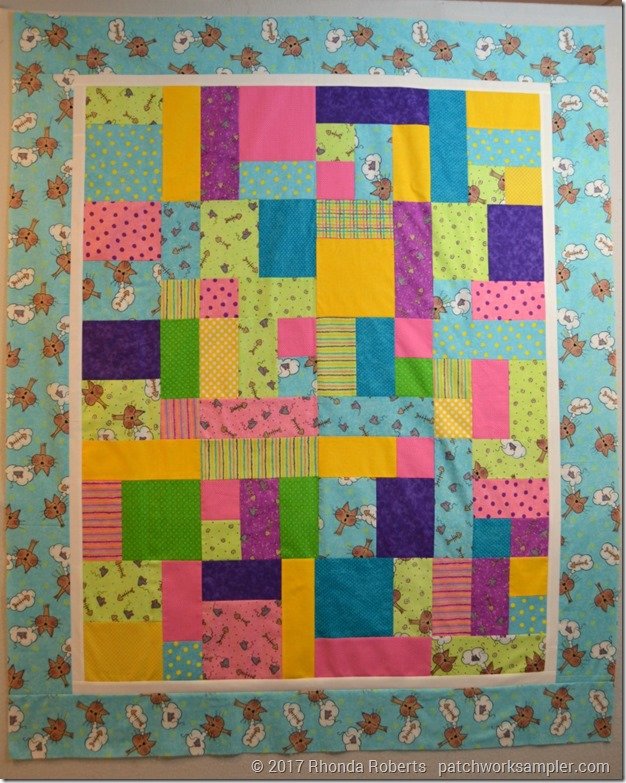 My goal is to have these four finished by next Monday.  They aren't big so I can finish one pretty quickly.  So far, it's been an easy, fun project and will be so nice to empty some shelf space.
Linked to Design Wall Monday at Patchwork Times.  Click on the links there to see some great projects in progress.