I just finished the binding on the Easy Striped Blocks quilt (tutorial here) using the new Kaffe Fassett striped fabrics.  I like how it turned out.  The colors in the stripes have a fall look with the red, orange and green.  Just perfect for this time of year. 
It's quilted with an overall "water" design.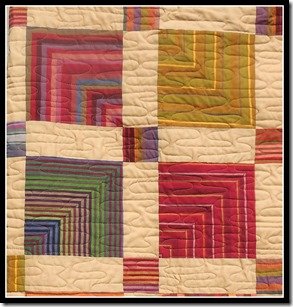 I had enough blocks left over to make another quilt so I listed this one one Etsy.  Now I need to get the other one loaded on the frame and quilted so I have one for myself this fall!
Get inspired by checking out the links at Can I Get a Whoop Whoop at Confessions of a Fabric Addict.