After I reread yesterday's post, I thought maybe it was kind of a downer. Usually, I am a very positive person who is very enthusiastic about quilting and I'm always up for a challenge, especially a UFO challenge. For at least 15 years, I've joked that I have enough fabric to make a king-sized quilt every day for the rest of my life and I have to live to be 150 years old. Now that I'm starting to go through things, it's not a joke!
Most of these UFOs started as samples for classes, techniques or new books, patterns or fabric lines from when I owned a quilt shop. Unless you've owned or worked in a quilt shop you probably don't realize how much sewing is required to make inspiring shop samples. There just isn't enough time to finish everything before new things come in.
If you need a little push to work on your own UFO's the good people at American Patchwork and Quilting are here to help by hosting the 2018 UFO Challenge. I know I will join in. More information about the UFO Challenge may be found here. There is also a closed Facebook group to motivate everyone to keep at it!
I've started assessing all my sewing stuff and this is the first of many, many boxes to sort through.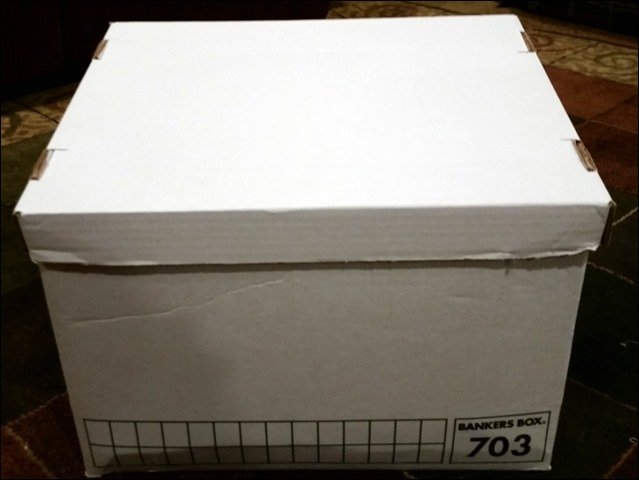 It is just a small, ordinary file box, but it holds a treasure trove of sewing projects. Most of these have not seen the light of day in several years. So without further ado, this is what is in this box.
1. Bowties. There is a partially completed quilt top along with lots of additional blocks to add. It is unusual for me to only piece part of the top. Hopefully I can arrange the additional blocks to balance out the quilt. My best guess is there was a deadline and I had to show something completed!!
2. Miss Rosie's Quilt Company UFO? I thought this quilt top was from a Miss Rosie's pattern called Wagon Wheels or something like that but a Google search didn't come up with anything so I must be wrong about what this one is. Again, I have a partially pieced top with some additional chunks to add. I really like this quilt and will for sure move it to a higher priority. It would be nice to at least come up with a picture of what this is supposed to look like so I have a border idea.
3.  Kansas Troubles Star. This one is the most complete project in the box. I think it just needs to be quilted and bound.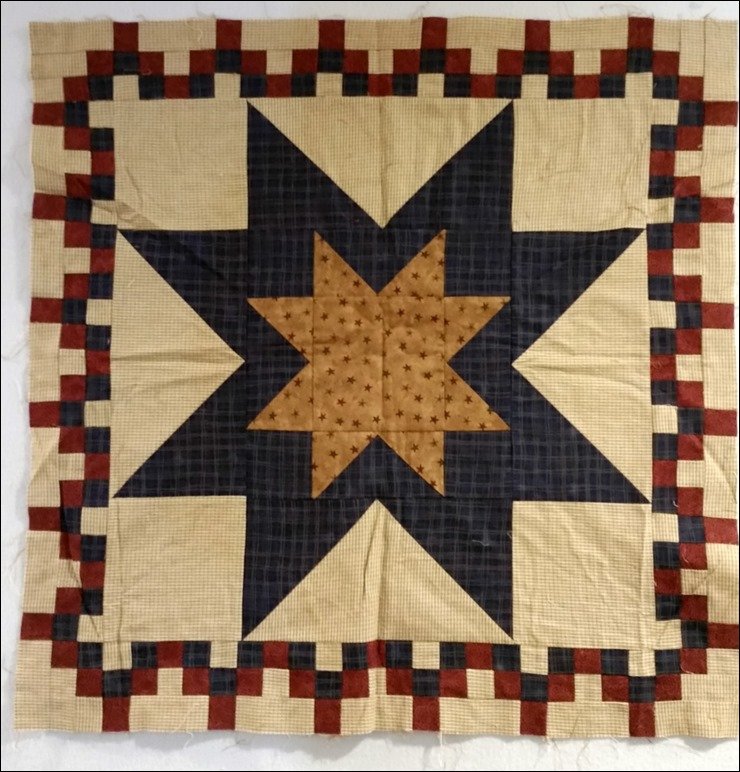 4. Scrappy Broken Dishes. There are about a million of these blocks that need to be sewn into a top.
5. Flannel Crazy Curves. I'm sure this was started as a class sample because I taught this technique many times. It is made from a Holly Taylor/Moda line of flannels. I was never too crazy about these outdoorsy lines of fabric with purple, so this will probably be pitched. There may not even be enough blocks to make finishing it worthwhile.
6. Half Log Cabin. There are some completed blocks along with a big bag of strips. I like this pattern and it's mindless, relaxing sewing so this will be a pretty easy one to finish.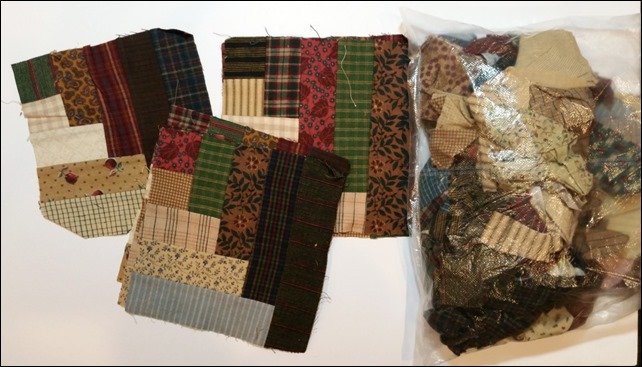 7. Applique Medallion Block of the Month. I'm pretty sure this was a block of the month and there was probably more too it than what is here. It looks like a good size to finish as is and use as a table topper. I'm not crazy about the center bird block so I may replace it (or not).
8. Another block of the month. This was one of our shop blocks of the month with 12" blocks. If there aren't enough blocks here to make a nice sized quilt, I'm sure I have lots of kits in another box to make more!!
9. And another block of the month. This one, too, was a shop block of the month with 6" blocks. I like these blocks but may have to come up with a fun setting in order to finish it.
10. One last block of the month. This was a batik block of the month. I know there are more blocks and kits somewhere.
11. Oops, still another block of the month. This is Mama's Little Shortcuts by Atkinson Designs. All the blocks are here but again, no border instructions. I have a picture, though so I can figure it out.
12. Now we get into the kits. These are for little applique and stitchery pictures with ceramic buttons.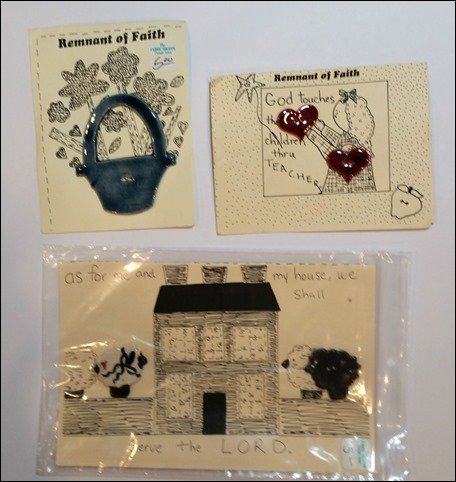 13. Applique pillow kit. We did a pillow of the month series. I guess I didn't make the May one.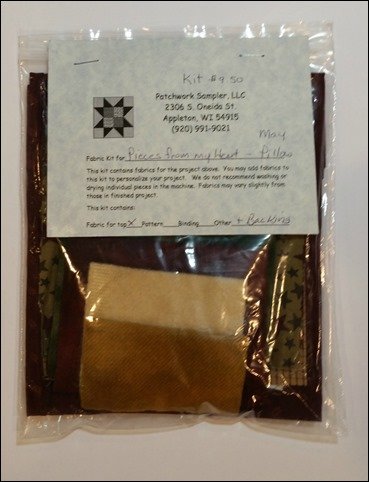 14. Peace wall hanging by Country Threads. I used to stop at Country Threads almost every time I made the trip to Kansas City to visit my family. I still miss this shop, but have lots of completed projects along with some kits and UFO's to remember it by.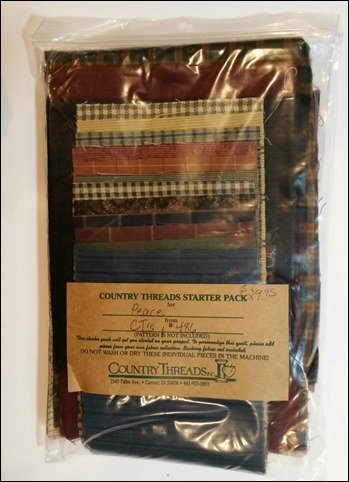 15. Mystery kit. There is no pattern with this bag of fabric and I have no clue what it was supposed to be. Each piece of fabric is painstakingly labeled so some day I may take everything out for a better examination and try to figure it out.
Just to make sure the box was FULL, there are some random fabric scraps thrown in that don't go with any project in the box.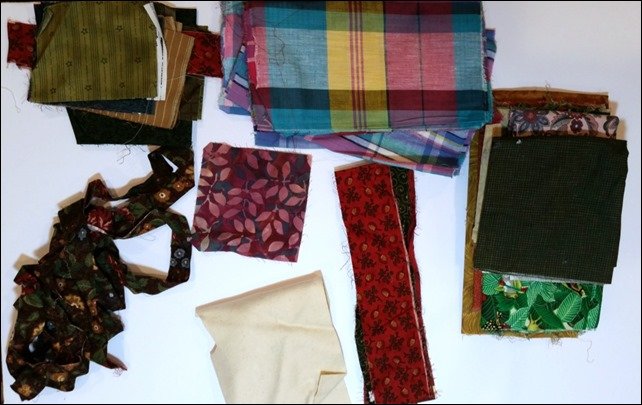 That one little box probably holds enough to keep my busy for the better part of a year. Not all of these will make it to my list of twelve for the 2018 UFO Challenge, but there are four or five that would nice to move to the finished quilt pile this year. How about you? Will you be concentrating on finishing up some UFO's this year?