Yesterday I mentioned that I cut a stack of homespun scraps into tumblers. Tumbler quilts are great stashbusters because you can cut and piece them very quickly. They are also good for showcasing a line of fabric since the pieces are fairly large. Here are a couple of my favorite ways to cut tumblers.
For larger tumblers, I use this template from Missouri Star Quilt Co.
I start with 5″ strips of fabric. You can stack up to four strips. Simply line up the template on the top and bottom of the strips then cut on both the left and right side of the template.
Next, rotate the template 90 degrees and line it up with the left edge of the fabric and the top and bottom and make a cut on the right side of the template.
Continue all the way down the strip.
It is very fast and there is very little waste. This template also works with charm squares and fits a 5″ square perfectly.  When using charms there is a little waste because of the angle of the template.
My other favorite tool for cutting tumblers is the Creative Grids Tumbler Strip Ruler. It cuts little tumblers from 2-1/2″ strips–another great stashbuster. I don't think this ruler is still available, but many online shops carry a similar ruler in a larger size.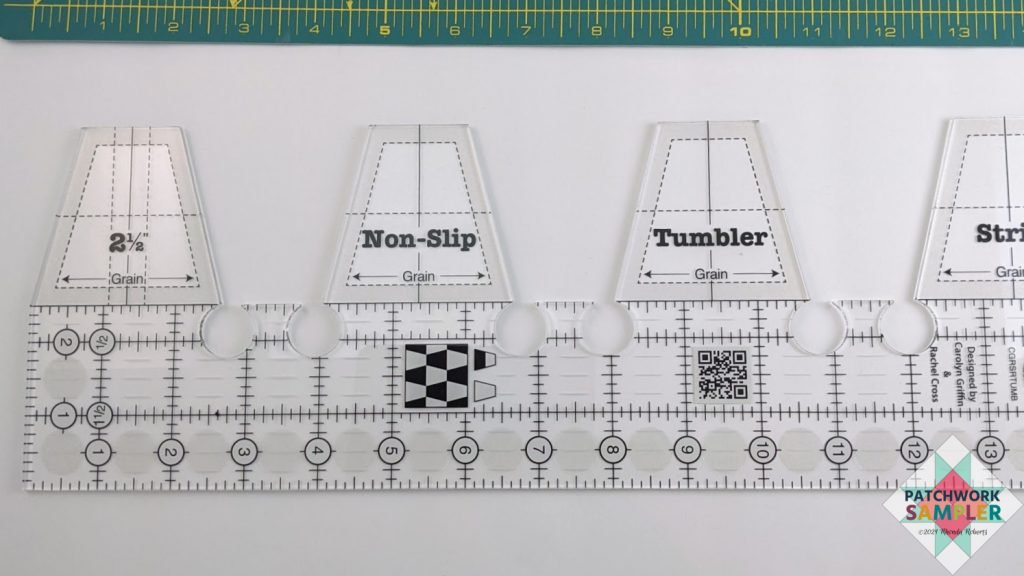 With this ruler, you simply layer 2-1/2″ strips, then cut along the edges.
This ruler yields lots and lots of little tumbler that you can sew together in long strips!
You don't even need a special "tumbler" template to cut, you can also use a Dresden ruler. The angle or shape may be slightly different, but if you are consistent it will work. With this method you can use any size strip up to the length of your ruler. I like this Double Wide Dresden Ruler by Me & My Sister. You can use it just like I showed above with the Missour Star template.
Whichever way you decide, you can cut a lot of pieces in little time. Even better, since they are ready to go, you can start sewing right away.
This little tumbler quilt was made from two charm packs and a little yardage for border. It is approximately 34″ x 44″.
If you are looking for an easy project to make for a gift, charity or even for youself, tumblers quilts are fast and fun!