A couple times a year Olive Juice Quilts in La Crosse holds a shop retreat. Since my daughter was living there, it was easy for me to drive over for the weekend and we always had a good time. Not only did we accomplish a lot of sewing but were able to chat one-on-one (well, except for the other 28 women at the retreat!). Jen LOVES cats and had The Kittens by Elizabeth Hartman Designs on her to-do list for some time. With her job, she has little time for sewing. For this past March retreat, I offered to cut the blocks so she could make the most of this dedicated sewing time. Believe me, this was a generous offer on my part. Haha! There are lots of fabric and lots of pieces for each block.
Jen persevered over the retreat weekend and finished all 30 blocks. After a couple of sewing sessions at home she finished the top and then brought it to me to quilt. Jim and I are planning a visit so it was time to finish it and take it with us.
I really like how The Kittens quilt turned out. In the lower right corner are honorary blocks for her cats Tabasco and Hollandaise (what else would a Food Scientist name her cats?). Jen did a nice job and it's a bright, fun quilt. If it weren't for the cutting, I might want to make one for myself. I think doing that once was enough though!
Jen likes her quilts soft and drapey with barely enough quilting to hold the layers together. I quilted wavy horizontal lines to keep it soft and simple, while giving it a nice texture. I finished the binding yesterday so now it is ready to go.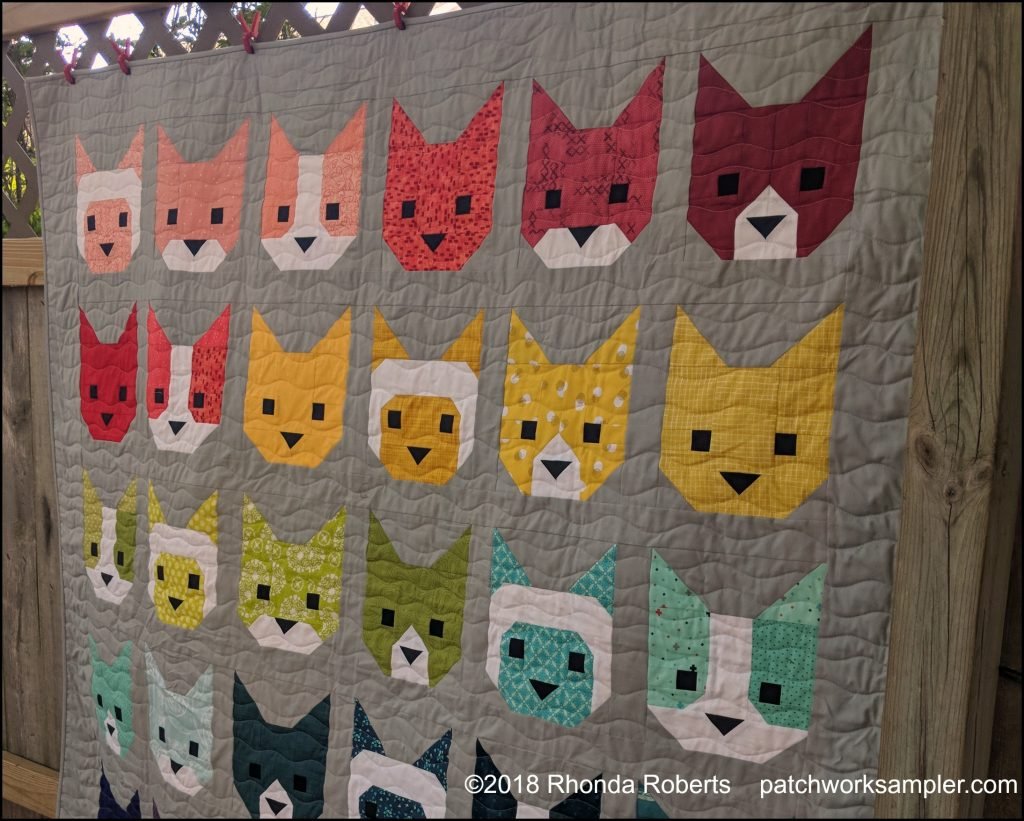 Since the retreat Jen was transferred to the Twin Cities so she no longer lives in La Crosse. I'm hoping we can get back there for a retreat. If not, we'll just have to coordinate a weekend and make our own. The good news about her move is that even though she's a little further away, we will probably see her more often. A few times a year we visit friends from when we lived there and may go even more frequently now that we have a place to stay!