Disclosure: Patchwork Sampler is a participant in the Amazon Services LLC Associates Program, an affiliate advertising program designed to provide a means to earn fees by linking to Amazon.com and affiliated sites. I personally use and endorse any linked product and may receive consideration for any product purchased through these links.
Does anyone else have squirrel syndrome right now? Squirrel syndrome was introduced back in 2009 in the movie "Up." Experts say it is the inability to concentrate on a task and chasing one shiny thing after another. This results in tasks delayed or abandoned. I don't know about you, but this pandemic has given me an almost paralyzing case of squirrel syndrome. It seems like I can't focus on anything.
This is my most recent example. I was moving right along on the Pieceful Times Mystery quilt. While pressing blocks  a bag of fabric caught my eye. I picked it up and saw it was a Scrap Bag Log Cabin Quilt kit that we sold back in the day. The kit has fifty 2" strips with a chunk of fabric for the block centers and the strips are pretty random. As in they don't go together at all! So instead of continuing with my current UFO project, I started another. I sorted through the bag and selected the strips that look okay together. Then I got my drawer of 2" strips and dug through that until I found some more that should work. After a little thought, I decided I really didn't want to make that log cabin so spent some time thinking about what to do with the strips instead. A friend recently completed a Scrappy Trips quilt from Bonnie Hunter. You can use either 2" or 2-1/2" strips for Scrappy Trips, so decision made!
Several quilting friends have shared similar scenarios. Here we have all this extra time to sew but we're not staying focused but are going in many different directions. For me, this is not only happening with quilting, but I can't concentrate enough to read a book either. In the past 9 weeks that I've been home, I haven't read a single book. In normal circumstances, I read a book every week to 10 days. I have listened to a few audiobooks while I walk, but that's it. I'm not sure why this is happening, but I'm looking for ways to get back on track.
I love Austin Kleon's books, Steal Like an Artist, Show Your Work!, and Keep Going and follow his website. Last week he wrote a post entitled "If you are having trouble reading…". He makes suggestions on how to handle to inability to focus on reading. Some can carry over or be adapted to other areas. Here are a few things to try if you can't stay focused on a quilting project.
Work on easier projects. If a double wedding ring seems impossible, work on an easy quilt, like Yellow Brick Road, that offers almost instant gratification.
Work on several projects until one draws you in. Even if that never happens, you will have made progress on a number of projects.
Visit an old favorite. If you can't concentrate on figuring out a new technique, fall back on something you've made before. Love churn dashes, log cabins or rail fence. Pull out some fabric and make these familiar blocks.
If you can't focus on a project and feel you are spinning your wheels, put it away for happier times. There's no sense in getting frustrated or having to rip out seams when you're feeling overwhelmed.
Listen to music, an audiobook or podcasts while doing mindless sewing. Make four patches, nine patches or half square triangles. These are simple enough and can be used to make many different blocks.
Forget about sewing for awhile and take a walk, work a jigsaw puzzle, bake a cake, or watch a movie. Your quilting projects will wait.
These Scrappy Trips blocks are quick and easy to make. I love scrap quilts and it's fun to see these old favorite fabrics again. In the end, will this be a competition quilt? No, but it will keep me sewing and make a great donation quilt.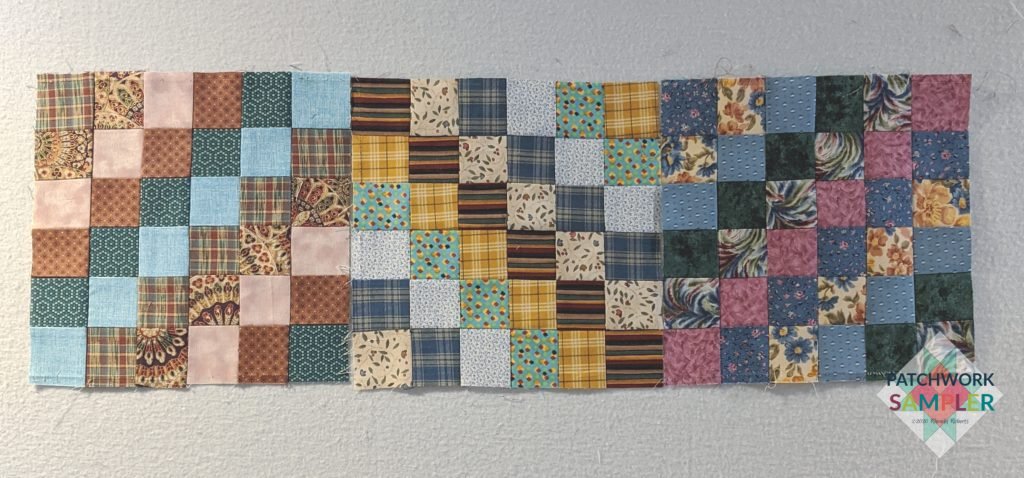 Hope you are finding ways to keep sewing!