The Sanctuary quilt is on the frame and I'm piecing a new quilt based on the Villa Rosa pattern Lillian.  I'm using some fabric and charm squares from the Double Chocolate line by 3 Sisters.   This is such a pretty line of fabric with a large floral print that works great with this pattern.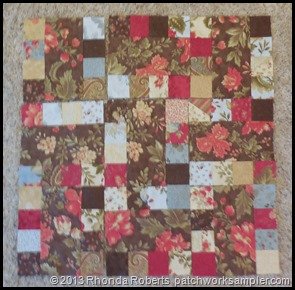 It's an easy quilt and I should be able to finish it this week but I'm sure not getting as much time at the sewing machine as I'd like.  Right now I have several UFO's in baskets and I would like to at least finish piecing the tops.  Today is the 9th and I'd hoped to have another nine patch ready to show, but it's not quite ready.  It's a nine patch and snowball that I'm piecing entirely from scraps.
Here is my EQ7 picture and the link to the pattern is here.  I hope to post a picture of the actual quilt soon!