There are a few quilt patterns I love and use over and over.  I could probably spend the rest of my life just making nine patches, log cabins and star designs.  There is so much possibility with those that I never get tired of them.  Awhile back I was looking at my stash and challenging myself to make a scrap quilt every month.  In my recent Road to Llano quilt I used an old favorite fabric.  When we had our shop there was a scrappy double nine patch hanging in the hallway that had that same fabric in the border. It wasn't my quilt but I always wanted to replicate it.  So I thought about making a nine patch quilt every month.  Then I carried it a step further and had a goal of having a Double Nine Patch ready to post on 9/9.
I was successful on only part of this goal—I finished the Double Nine Patch but it wasn't from stash.  When I was drawing this up in EQ7 I used fabric from Moda's Wintergreen line and liked it so much that's what I used for this quilt.  I just love the timeless look of this pattern, so I'll just have to make another one from scraps!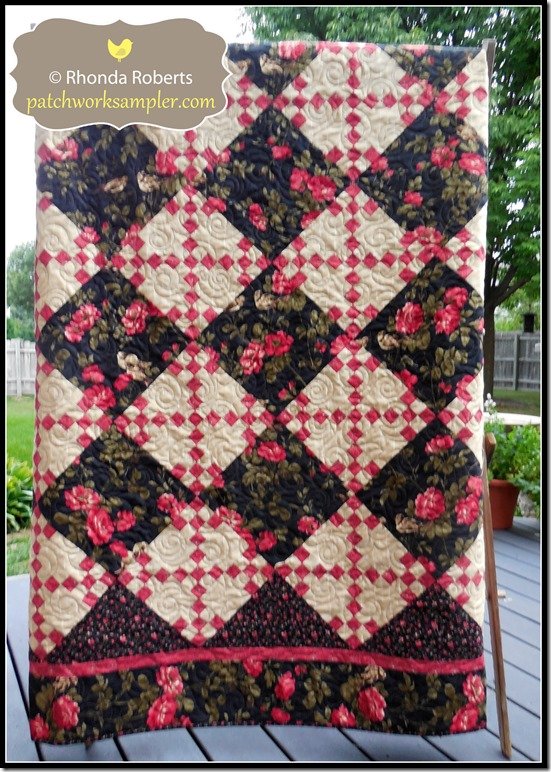 If you would like to make this quilt, the pattern is posted here.  It's an easy one to figure out, but it will save you the trouble of doing the math. LOL!  I also have a couple of kits available here for this quilt in my little Etsy shop if you'd like to make one just like this!
Congrats to Angie in TN who won last week's give-away.  Check back tomorrow for a chance to win more quilting goodies.  I'll be having a give-away every week in September.