This quilt, Star Surround,  a Quilt Along by Melissa from Happy Quilting, came together quickly.  I cut it out on Monday and finished the binding last night.  Yesterday I really pushed to get it quilted so I could hand sew binding during the football games.
Originally I planned to set the four blocks side by side to make a bed runner for the foot of the bed, but changed my mind and made it square.  I decided it would be more versatile this way as it could be used as a lap quilt or thrown over the back of a chair or sofa.  I might even hang it on the wall over the bed.  It will look nice in this bedroom and I'm really happy with the way it turned out.  Even better, EVERYTHING was from stash!  A big thanks to Melissa for a sharing such a great design!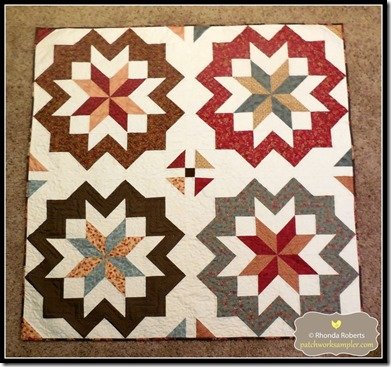 Take a look at other interpretations of this quilt in the Star Surround Parade at Happy Quilting.
Looking for some inspiration?  Check out other design wall Monday links at Patchwork Times.