Whew! It's been a while since I've had a Friday finish. Honestly, I work best when I have a deadline. My small quilting group met via Zoom yesterday and I really wanted to have something to show. The Violet Quilt was a Quilt-A-Long from Kitchen Table Quilting. The top has been finished for a couple of months (at least!) and it has been on the frame awaiting quilting for a month.
With my deadline looming, I took TWO HOURS to quilt it. Haha! Yep, that's all it took since I simply quilted straight horizontal lines.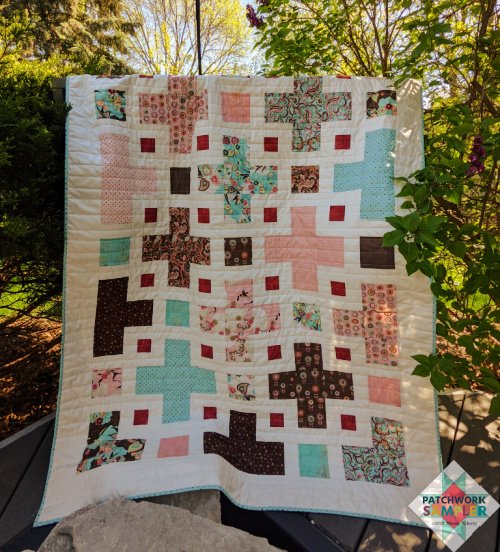 I really like this quilt and it was super simple to put together. If you check out Kitchen Table Quilting's website you can see several different versions of this quilt. It looks great in any fabric combination. The pattern is available here in pdf form or here for the paper version.
A few years ago I made a custom quilt for someone using Moda's Blush line of fabric by Basic Grey. There was a big bag of leftover fabric so when the quilt-a-long started, I grabbed the bag and used some of the scraps.
I love the blush pink, aqua, and chocolate brown combination. This was a very pretty line of fabric and I added a few other scraps to what I had.
Simple straight-line quilting worked well to go along with the modern design. I did not measure the distance between lines so they are spaced consistently inconsistent! The batting is Pellon Legacy 80/20 blend. I'm not sure I like this batting that much because it is very lightweight. The quilt drapes nicely, but I doubt it would keep you very warm. I think I am spoiled with Quilters Dream batting and honestly don't think any other batting is as good. I have a bolt of the Pellon though so will have to use it in several more quilts.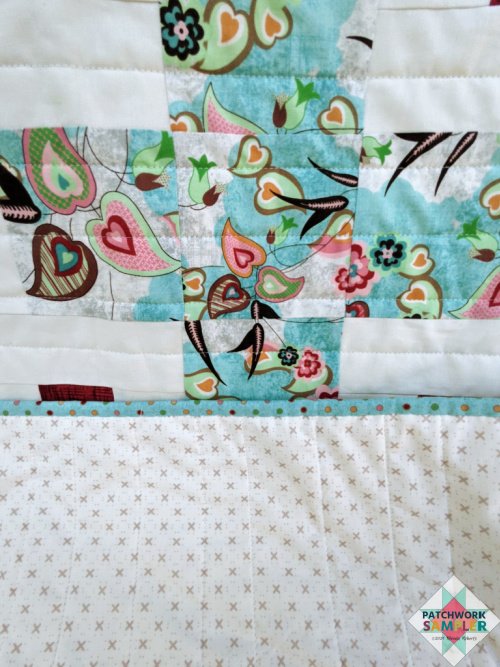 The backing is a wide-back from Moda from the Nest line by Lella Boutique. It is simply X's on a white background. I can't even tell you how nice this backing fabric feels. My best comparison is to my grandmother's cotton percale sheets right off the line. It is just incredibly soft and smooth.
It is so nice to finally have something finished. I don't yet know what I will do with this quilt, but for now, I will just drape it over the back of the sofa and enjoy it!