More patterns will be added soon.  I'm in the process of re-writing them and I'll post them as they are updated.
You may print the instructions for these quilts for your personal use.  Please do not print or copy instructions for others.  Do not copy to any other website or blog.  Instead, please refer others to this site.  Feel free to make quilts from these patterns for yourself, as gifts, for charity or to sell.  If you have any questions, please contact me.
Click on the pattern name and a PDF will pop up.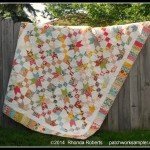 Road to Oklahoma